From 2 September to 2 October 2021, new users (in Singapore) who register an account with Moomoo will receive FREE 1 Apple share (ticker: AAPL) when they complete the necessary actions, while stock last. The Apple share redemption is limited to 15,000 only!
Here's how to get the welcome bonus
Step 1: Click here to open a new account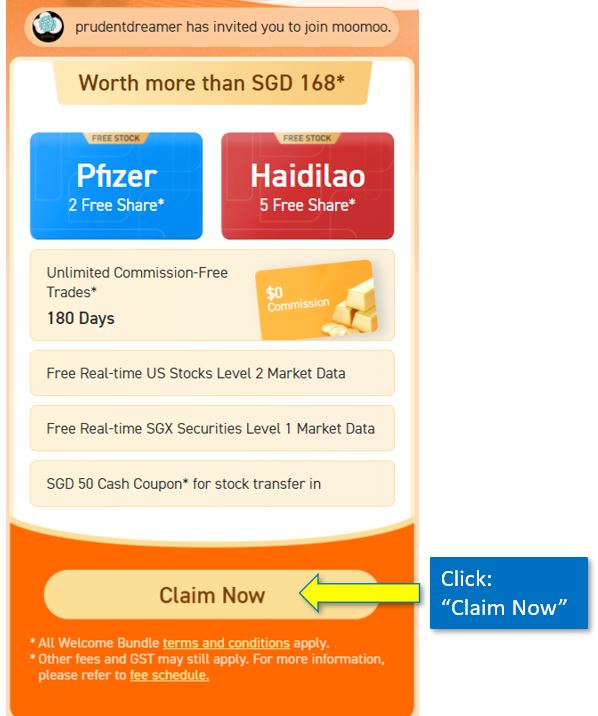 Step 2: Now, download the Moomoo mobile app and login with your details
Step 3: Set up your Moomoo/Futu trading account and wait for it to be approved.
Step 4: Follow 1 user in Moomoo and get 50 points (if you want, you can follow me, just search for my username "prudentdreamer")
Step 5: Post 1 comment in any stock and get 50 points
By completing Step 1 to 5, you have completed Treasure Box 1 and will unlock Treasure Box 2
Step 6: Deposit SGD 2700 or USD 2000 or HKD 16,000 into your account
Step 7: Watch the video in the specified article and get 50 points.
Step 8: Make 5 trades in any of the market, it could be US, HK or SG market.
If you are not comfortable trading with big amount, just choose stocks with low quantum. In SG market, the minimum number of share to purchase is 100 for individual stock (eg: DBS) and 10 for ETF (eg: STI ETF). In US market, the min number of share you can purchase is 1 single share.
By completing Step 6 to 8, you have completed Treasure Box 2 and will receive the FREE Apple share (currently worth US$ 150 or about S$ 200)!
Step 9: If you successfully refer a friend, you will get FREE 1 Apple share for every 2 friends referred.
A couple of things to note:
Deposit must be completed before 2 October 2021
The 5 trades must be completed within 60 days from day of first deposit. But remember, there's only 15,000 redemptions available, so the fastest fingers will get the rewards.
The free stock will be automatically deposited to your account within 5 business days upon task completion.
The treasure boxes need to be unlocked sequentially. The second treasure box will only be unlocked after the first treasure box is completed.
The full Terms & Conditions can be found here
Given that Moomoo reduces their welcome bonus every month, do sign up as soon as possible to maximize your welcome bonus!
Moomoo has been my favorite trading platform lately. I use it to buy SG stocks and US stocks, as well as selling options. Hope you like Moomoo as much as I do.
Related post:
How to Earn Money Selling Cash Secured Puts: A Beginner's Guide