If you're a moomoo user, you might have noticed the new "Money Plus" tab inside their trading app.
I decided to try it out and subscribe to a fund to see if it's something that fit my risk appetite.
In this review, I'll share about what moomoo Money Plus is, how it works, how to navigate the platform, as well as my own thoughts about what I like and what I feel can be further improved on.
What is Money Plus?
Money Plus is a wealth management service that offers users the ability to subscribe (aka purchase) funds directly via moomoo app.
A Fund is a pool of money from many investors that is managed by professional fund managers.
The fund managers will charge management fee which is deducted from the fund assets directly.
What's the benefit of investing in Funds instead of individual stocks?
1. Diversification
One of the rules in investing is: don't put all your eggs in one basket. Funds use the pooled money to invest in various assets, sectors and regions. Hence, the risk is lowered and not concentrated.
2. Lower Quantum than Most Individual Stocks
The price of many great stocks is often too high for retail investor to purchase frequently. For example, Amazon's stock price is about US$2900 at the time of writing. If your saving is US$500 a month, you need to save for 6 months before you can purchase a single Amazon stock.
By investing in a Fund that invests in Amazon, you can get exposure to Amazon with just US$100. To find the list of Funds that invest in Amazon, you can go to AMZN Quotes -> Summary tab -> Relevant Funds -> Details.
3. Save Time
We all know how time consuming it is to do research on every company that we want to invest in, or we've already invested in. By investing through a Fund, it is the fund managers that are doing the research, not the investors. Hence, if an investor doesn't enjoy research, he'll be better off delegating investment research and decision making to the professionals.
Fyi, this is not a passive investing. This is active investing, but the work is done by fund managers.
What are the available Funds in Money Plus?
Right now, there are over 60+ funds across equity, bond, dividend, or balanced funds from 20+ asset managers, including reputable fund managers such as BlackRock, Franklin, PIMCO, Allianz and Goldman Sachs.
How to invest in Funds using Money Plus?
Have a FUTU SG securities account via the moomoo trading app
Decide which fund you want to invest in
Decide: lumpsum investment or auto-investing
1. Have a FUTU SG securities account
To invest using Money Plus, you need to open a FUTU SG securities account via moomoo trading app. If you don't have it yet, you can open your securities account from this link here. Here are the details on the sign-up bonus via moomoo.
2. Decide which fund you want to invest in
It's easy to get overwhelmed when trying to choose a fund from 60+ funds available in Money Plus, but here's how to simplify the process.
On the moomoo mobile app, go to Money Plus tab -> Fund Ranking -> Filter
There are 5 filter criteria, namely: Types, Currency, Theme, Dividend, Company. You can filter based on just 1 criteria, or multiple criteria.
For me, I prefer to perform my search using Fund Theme criteria.
Currently, I'm already exposed to some sort of real estate through my REIT stocks, China through my BABA, so I want to look for something else. I don't want energy because energy stocks are too expensive now and in the long run it will only go down. Finally, I decided to choose Technology because I don't have much exposure in Tech right now, and Tech is pretty undervalued nowadays.
The search returned 7 funds. Upon further investigation, it looks like Janus Henderson is focused only on the Healthcare industry, which is not what I want, so the 2 Janus funds are out. With 5 remaining funds, I dived further into the fact sheets, annual reports etc (all these documents can be found inside moomoo app, just click the fund and go to Summary tab). Finally, I made the decision to invest in BGF World Tech Fund SGD. (This is not investment advice; I'm just sharing how I narrow down my search).
3. Decide: lumpsum investment or auto-investing
After choosing the fund, the next step is deciding whether to do lumpsum investment or auto-investing.
When you click the Fund name, you will arrive at the Fund's Performance tab. At the bottom, you will see 2 buttons: Subscribe and Auto-Invest.
As a new investor in Money Plus, when you click on either Subscribe or Auto-Invest button, you will be asked to take a Knowledge Assessment as required by MAS.
After completing the assessment, you can now choose either Subscribe or Auto Invest.
Subscribe means lumpsum investment. You can key in the amount to invest. The minimum amount for the fund that I want to invest in is SGD 100. Below the purchase amount is the Coupon section. If you have coupon, you can select them at this stage.
For me, I decided to do lumpsum investment. I had earned a 3-day 15% fund coupon after completing the tasks in the welcome offer (I'll go into the details of the current promotion at the end of this article).
So, when I subscribed to my first Fund, I can make use of the coupon when submitting my order. Here's how it looks like.
If you want to know the timeline, you can click "Buying Rules" at the top right corner when submitting fund subscription.
Auto-Invest means regular investment. You can decide the amount per investment, the frequency of investment (daily, weekly, bi-weekly or monthly) and you can also choose which particular day you want the system to perform the purchase. This will come in handy for investors who prefer to automate their investment.
The fees of Money Plus
Currently, the fee for subscribing to a fund and redeeming it is 0. Meanwhile, the management fee is deducted from fund assets.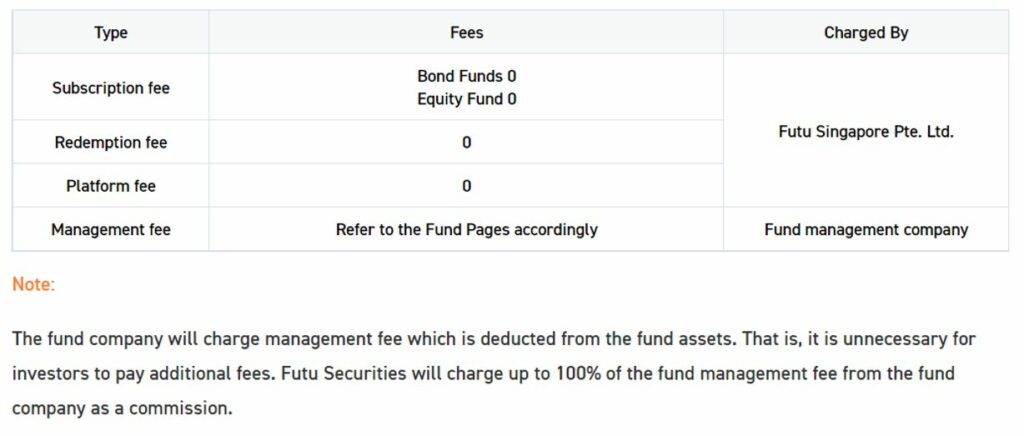 What I Like about Money Plus
Easy to access. Money Plus is using moomoo app, which is the same app that I use for stock and option trading. There's no need for me to create another account or download another app.
Easy to liquidate. In the event where I spot an opportunity in stock market, but I don't have enough money, I can simply redeem the Fund that I've purchased. The proceed will be credited directly into my cash wallet in the app, which I can then use to buy stocks. It's worth noting that redemption is not immediate, though.
Able to see all funds in one list and filter them according to certain criteria. Without a filter (screener) function, trying to find an investment that fits you can be like trying to find a needle in a haystack. I'm quite content that I can find which fund that fits my requirement in a couple of clicks.
Able to compare fund performance to market performance. When investing in Fund, you'd want to monitor if the fund performance is in accordance to market return. To do so, go to Money Plus tab -> Comparison -> Choose the Index and the Fund to compare -> Save.
What can be Improved about Money Plus
Money Plus full function not accessible through desktop yet. At the time of writing, I can search for the Fund name in desktop app, but I can't access the full function of Money Plus in the desktop app. Personally, I'm more of a desktop person than mobile, so I hope that moomoo can incorporate Money Plus in the desktop app.
Current Promotion
From now until 30 March 2022, 23:59 SGT, all moomoo users can get the following rewards when they complete the Fund-related tasks:
1. Learn about moomoo's Money Plus and watch the explore page to get a 3-day 15% fund coupon and 800 moomoo rewards points.
2. Set up an automatic investment plan to get a 3-day 15% fund coupon and a SGD 8.80 cashback coupon.
3. Subscribe to a non-MMF (money market fund) above SGD 100 to get a 3-day 15% fund coupon and a SGD 5.80 stock cash coupon
4. After completing all the tasks, users can unlock an exclusive gift package for new clients and this is inclusive of three 3-day 15% fund coupons, 1,500 moomoo rewards points, and a SGD 18 fund cashback coupon.
Terms and conditions apply. Find out more in the moomoo trading app under the Money Fund's tab!
PS: If you don't have a moomoo account yet, you can sign up here and get free 1 Sea Limited share, 1 AMC share and SGD 30 stock cash voucher upon deposit and completing the necessary tasks. Promotion valid till 13 April 2022, 0959 SGT. Here's the detail on moomoo's latest welcome bundle.
Disclosure: This article is written in collaboration with Futu Singapore Pte. Ltd. All opinions belong to the author. This advertisement has not been reviewed by Monetary Authority of Singapore.
If you find this post is helpful, please consider buying me a coffee :)