In case you're a new reader, here's a little background about me. I booked a BTO in 2021. While waiting for our BTO to be completed, my spouse and I are renting a condo unit.
Our lease is usually a yearly lease, so each year, we either renew our rental or move to another place, depending on various circumstances (eg: job location, house condition, landlord character, etc).
We like our current place and we intend to renew our lease for another year, with the same rental rate. We were obviously unaware of the current situation of rental market.
About 2 months before the expiry of our current lease, our landlord contacted us and asked for 60% increase of our current rent. We were completely shocked.
Our first instinct was to go into denial mode. The asking price is crazy, if we have to pay this price, we might as well find a bigger flat. Surely there has to be a better flat out there in the market, right? Right?
We immediately went to PropertyGuru and furiously searched for available apartments for rent. What we found gave us another shock wave.
ADVERTISEMENT
How high is the rental market right now?
Crazy high.
Here is URA's graph showing the rental index for private residential properties.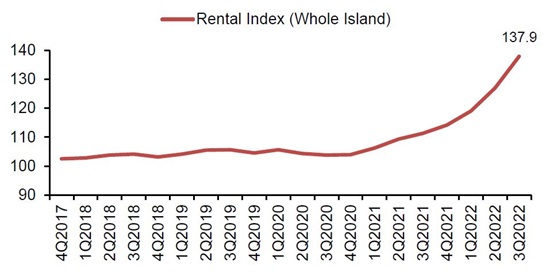 HDB doesn't release such rental index graph. So, here is Stacked Home's graph showing the HDB median rent: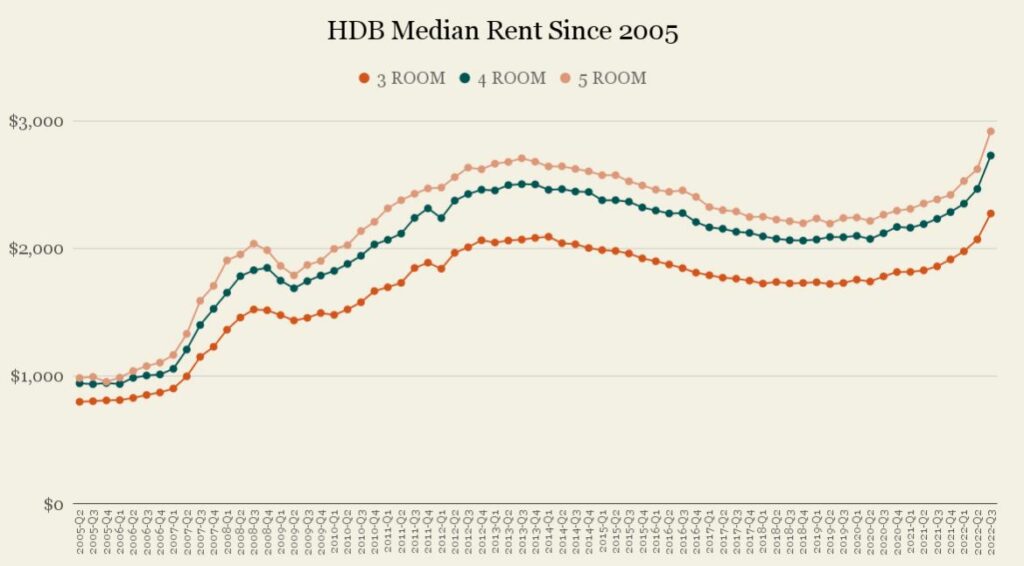 ADVERTISEMENT
Why is the rental market surging right now?
Demand is higher than supply
Because of COVID-19, the construction progress of new houses in Singapore was delayed. Thus, low supply.
Meanwhile, demand is rising because:
1. More people are waiting for their new homes to be completed, and they need a space to live while waiting. Some of them need their own space, hence they're renting apartment instead of living with their parents.
2. More people are working from home, hence they need larger space and can't co-live with their parents or friends.
3. People affected by the cooling measure in Sept 2022 (i.e. people who sold their private homes have to wait 15 months before being allowed to buy a resale HDB flat) have to rent an apartment to wait out the 15-month period.
4. Return of foreign employment means more tenants fighting for the already low supply of property.
ADVERTISEMENT
Will the rental market continue to be high in 2023?
I'm not a property expert, but based on the reports that I read, many people are predicting that both rental market and resale market will go down in 2023 as more new homes are completed.
Well, nobody can predict the future. But it's definitely helpful to have a thesis.
If you feel that rental prices will remain high in 2023, as a tenant, try to secure a 2-year lease to hedge against any further increase.
If you feel that rental prices will go down, then you may consider signing a 1-year lease and re-negotiate again next year. Of course, if the price goes against your thesis next year, you'll end up paying a higher rent next year.
ADVERTISEMENT
What to do as a tenant in the current market?
If you're a tenant with a lease expiring soon, here are my advice:
Downgrade if possible. If you're currently renting a 2-bedder condo, consider downgrading to 1-bedder or studio. If you're currently renting a 5-room HDB, consider downgrading to 4-room or 3-room.
Consider co-living. If renting a whole unit is getting too expensive for you and downgrading is not an option you want to take because you have claustrophobia, consider co-living with your parents, families or friends.
Accept that you have to pay more. Property is cyclical in nature, sometimes it's up and sometimes it's down. Right now it's up, so you have to accept that you will pay more.
Negotiate with your current landlord. If you never ask, you'll never know. Try to ask for a lower rent with longer lease.
Move out of the country (optional). If your job is remote, and you don't mind living in cheaper countries, now is the best time to do so.
Cut your other expenses and increase your income. Economy is bad, cut your expenses as much as possible. If your expense is already at the minimum, increase your income by getting a part time job or a better paying job, or work on a side hustle if you haven't already.
ADVERTISEMENT
My not-so-happy ending
For me, moving out of the country is not an option because my work has to be done here in Singapore. Downgrading and co-living are not possible for us as well.
We negotiated with our landlord and managed to lower the rent slightly. Instead of 60% increase, it is now 50% increase from my current rent.
It's still high, but it is the best option for us right now.
Yes, it will derail my plan for financial independence. This is definitely not an easy stumbling block to overcome.
It is a humble reminder for us not to overspend and to always live within our means.
Featured image: Canva Pro
UPSIZED PROMOTION (31 Aug 2023 16:00 SGT to 28 Sep 2023 15:59 SGT)
Sign up for Webull Account and fund ANY AMOUNT to get free fractional shares worth up to USD1,000. No tradings required! Full details here.