This is the third part of "Our BTO Journey" series where I intend to share my complete journey buying a BTO flat.
OUR BTO JOURNEY SERIES

Part 1: Why BTO?
Part 2: Application and Balloting
Part 3: Flat Selection
Part 4: EHG, Signing of Lease, Downpayment
In my previous article, I wrote that I got the balloting result of Feb 2021 BTO in March 2021. The email from HDB mentioned that selection would start in April 2021.
ADVERTISEMENT
Receiving Appointment Date
After waiting in vain for the entire April, finally the long-awaited sms & email from HDB came in early May, telling us that we are invited to book a flat 2 weeks later.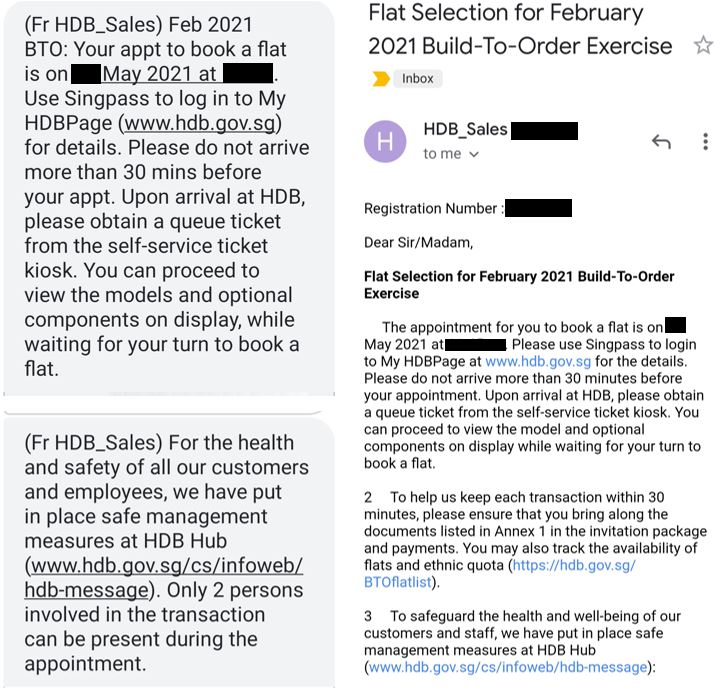 After receiving the sms & email, we logged in to HDB website to download the appointment letter. This is what we see in HDB portal.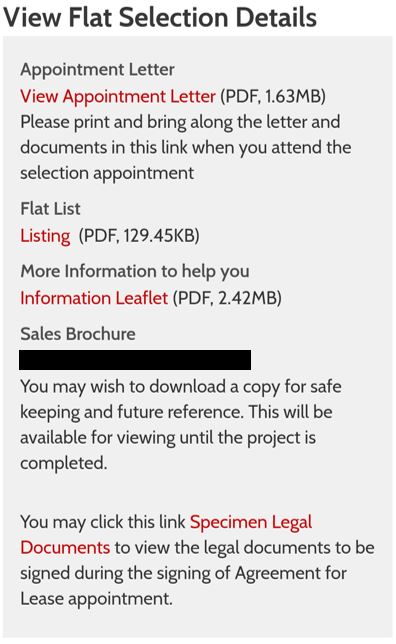 Inside the appointment letter, there are instructions on things to do before attending the first appointment as well as forms to print out, fill in, sign and submit on the day of appointment. Listing is a list of every unit and its corresponding price in this specific BTO project.
Information Leaflet is just a general information on OCS, how to use HDB portal, HLE, etc. Meanwhile, the sales brochure has information on site plan, unit plan, unit distribution matrix for each block, floor plans of every block, general specifications (eg: door types, wall finishes, etc) and details on Optional Component Scheme (OCS).
On the same page as the above section, when you scroll up/down, there is a section where you can know what's the last queue number invited for selection of that particular day when you access the portal. Only people who have received appointment date but have yet to attend the appointment get to see this section. It looks like the below image.

You won't be able to see the above last queue number after you have selected your unit.
ADVERTISEMENT
Decision Time: Nov 20 vs Feb 21
Because we received invitation for Feb 21 selection first, we had to make decision whether to go for Feb 21 BTO or not. At that time, Nov 20 was still in the midst of selection and we hadn't received any invitation for Nov 20 yet. We were not sure whether there will still be units available when our turn came for Nov 20, and we did not want to take the risk.
We decided to go for the Feb 21 BTO. Another reason we chose Feb 21 was because our number was low 2-digit, so we had a good chance of getting a very good unit, and even a chance to get a unit at the topmost level.
---
Applying for HLE
If you're taking HDB Loan, you need to get HLE (HDB Loan Eligibility) Letter before attending the first appointment for unit selection. We're taking HDB Loan to save on downpayment (HDB Loan only needs 10% downpayment while bank loan needs 25% downpayment), so we need to submit application for HLE.
Applying for HLE is pretty easy and straightforward. You just need to prepare the necessary income documents in softcopy, then apply online and upload your documents. After submission, if HDB need more documents, they will inform you via sms.
While most people apply HLE after getting an appointment date, we were quite kiasu. We applied even before we knew we were successful in the balloting. That's because we were afraid that HLE application may take weeks. The truth is, our HLE was approved in 6 calendar days.
We applied for HLE in late February 2021. 2 days after we submitted the application, we received sms saying that more documents were needed. So we uploaded the additional documents on that same day. Then, 4 days later, we received sms informing us on the approval.

ADVERTISEMENT
Prepare documents
In the appointment letter, there is a list of documents in the Annex 1 that you need to prepare and bring to the appointment (basically it's quite similar to this list on HDB website). The Annex 1 for everyone is different, depending on their employment type, HDB scheme, their grant eligibility, etc etc.
In addition, there are also forms that you need to fill and sign and submit to HDB officer during appointment (it's better to fill them in advance before appointment).
The Annex 1 list in our appointment letter didn't ask for marriage cert, but the list on HDB website includes marriage cert. To be safe, we bought our marriage cert during appointment. The HDB officer did ask for our marriage cert during the appointment, fortunately we brought it.
Submit EHG documents online
In the appointment letter – EHG section, there is a paragraph that says we can submit our documents online (before appointment) for their preliminary assessment.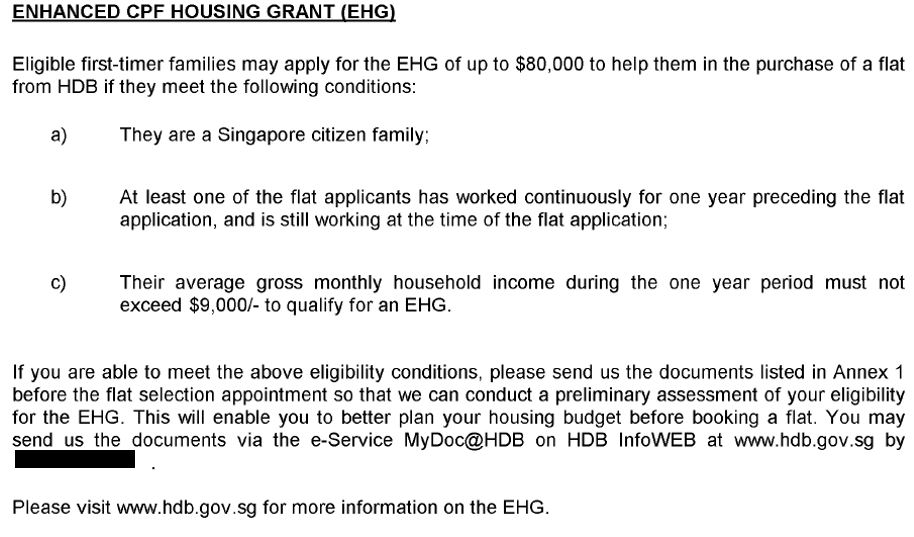 Being the typical kiasu couple, we submitted our documents online before the deadline because we want to quickly know how much grant we can get.
From our conversation with our neighbours in the same project, some of them didn't submit online and they receive grant approval around the same time as us. So, I guess there's no guarantee that submitting online will lead to quicker result. But we still wouldn't change a thing even if we could go back in time.
ADVERTISEMENT
Site Visit
With documents preparation done, it's time to prepare a list of unit that we want. We have the site plan in the brochure, and we can view the 3D model from HDB website, but something is missing. Seeing the softcopy is not enough, we need to know how it feels to stay in units facing certain direction. Hence, we decided to visit the site so that we can gauge which unit will have blocked view, and which unit will have unblocked view.
Shortlisting
To be honest, we can't really create a shortlist until the day before our appointment. That's because every time we shortlist a unit, it gets taken by people in front of our q number.
The day before our appointment was one of the toughest days in this BTO journey. We knew that we would be the 4th-in-line on our appointment day (because the last Q on the day before our appt is 4 number in front of us), so we needed to shortlist 4 units in case the 3 group in front of us select the units in our list.
After much deliberation, we could only come up with 3 units, and we still couldn't agree unanimously on the sequence of our shortlisted units. We keep going back and forth between the unit that face park (but not topmost level), the unit at the topmost level that face other block (but can get a glimpse of the park), the unit at the topmost level facing other project with similar height which is quite far away (but will get afternoon sun). Sigh! I guess the perfect unit doesn't exist.
ADVERTISEMENT
On the day of Selection (BTO 1st Appointment)
On the appointment day, we were only allowed to enter HDB 30 minutes before our appointment time. During the 30 minutes, we were allowed to look at the sample of OCS as well as the 3D model.
While other couples sit quietly at the waiting bench, we spent 5 mins looking at OCS and 25 mins thoroughly examining the 3D models. We stood on our tiptoes, half squatted, while taking photos and videos of the model, trying to imagine what our view would be in the units that we shortlisted.
One of the units in our shortlist was taken before our turn (the one that face the park), so we were left with 2 choices. One is my favorite (topmost, face other project that's far away but west sun), and one is my spouse's favorite (topmost, glimpse of park, facing other block that's very near to the unit). After our thorough examination of the 3D model, both of us still hate each other's favorite. I hate having blocked view, and my spouse hates afternoon sun.
Then our number appeared on the screen. It's time to choose!
ADVERTISEMENT
We walked to our designated desk. The HDB officer asked us which unit we want. We asked her for advice, but she declined to give any advice. We spent the next 5 mins discussing with each other, while HDB officer awkwardly waited for our decision. Realising that we were wasting her time, I quickly passed the documents to her to check first, while we continued to discuss on which unit to take.
After what felt like forever, we finally made the decision to go with a unit that's neither my favorite nor my spouse's favorite; it doesn't have blocked view and afternoon sun (yay) but it's not the topmost level. I believe that's the best solution. I'm glad we survived the tough task of choosing our future home.
Next, it's time to sign more papers and make payment of the booking fee/option fee ($2,000). There's only 1 acceptable method to pay the $2k: by Nets.
The HDB officer asked me to provide additional documents that's not listed in the list. Because I did not bring it on that day, she asked me to submit the document online.
The officer also explained to us the timeline for payment, and the estimate amount of money that we need to prepare to pay downpayment on the second appointment, in approximately 4 months time.
ADVERTISEMENT
Wait for Result of EHG and 2nd Appointment
The next step is patiently wait for the result of EHG and the schedule of 2nd appointment (downpayment and signing of lease).
Even though the officer said that 2nd appt will be in approx 4 months time, but we noticed the Option to Purchase (OTP) that we signed is valid for 9 months, so technically it is possible that our second appointment could be postponed to 9 months after unit selection. Oh well.
While waiting, I guess it's a good time to think about whether we want to pay the downpayment with CPF or cash. On one hand, we do not like the idea of accrued interest that keeps increasing every year. On the other hand, we also want cash liquidity.
We decided that we will pay the downpayment (minus grant) with CPF first. Then, we will slowly pay back CPF to reduce accrued interest.
Everyone has their own preference on whether to use CPF for housing or not. For me, I prefer not to use CPF for housing. I know it's an unpopular opinion but I have my own reason. I'm planning to write about this topic in the future.
Next
Next post is about EHG, signing of lease and making downpayment. Stay tuned!
If you find this post helpful, feel free to buy me a coffee :)