I have recently signed-up for a Trust Bank credit card because of its generous welcome bonus, which is S$35 FairPrice vouchers.
I wanted to share this here because I figured someone might be benefited from this promotion. S$35 for a 15-minute effort is like a free money in my opinion!
In case you've never heard of Trust Bank, it is a new digital bank by Standard Chartered and NTUC. Currently, the bank offers credit card, debit card, saving account and insurance.
New users who register a credit card account with Trust Bank will receive:
S$10 FairPrice voucher if you sign up with referral code P8DYKA6G (no code, no $10 voucher)
S$25 FairPrice voucher upon your first spend of any amount using Trust Bank's credit card
1 Breakfast Set at Kopitiam (expires 30 Sept 2022)
1 kg rice from FairPrice (expires 15 Sept 2022)
Personally, I did not sign up for the saving account yet, because to get the S$35 voucher, I need to spend it with Trust credit card. I'm not sure if you can get S$25 if you spend with debit card. I'm just sharing what I personally did.
For transparency, if you sign up with my code, I will get S$10 FairPrice Voucher as well.
Here's how to get Trust Bank Welcome Bonus
Step 1:
Go to trustbank.sg and download the mobile app.
Step 2:
Register for a new account with referral code P8DYKA6G to get the S$10 FairPrice Voucher.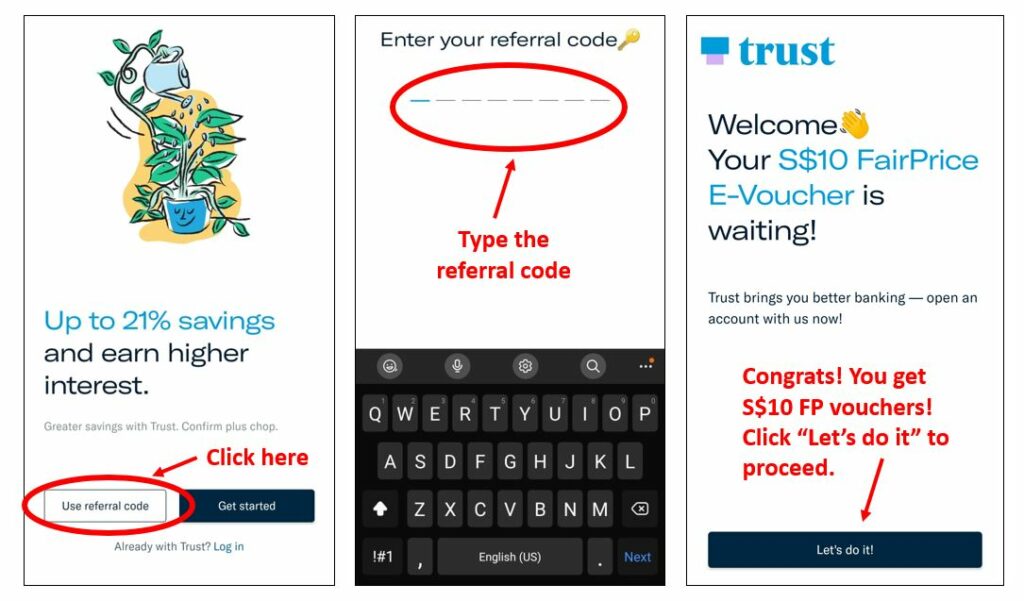 Step 3:
Apply for credit card. Allow Myinfo to retrieve your particulars and you'll get approval in just a few minutes if you meet their requirements.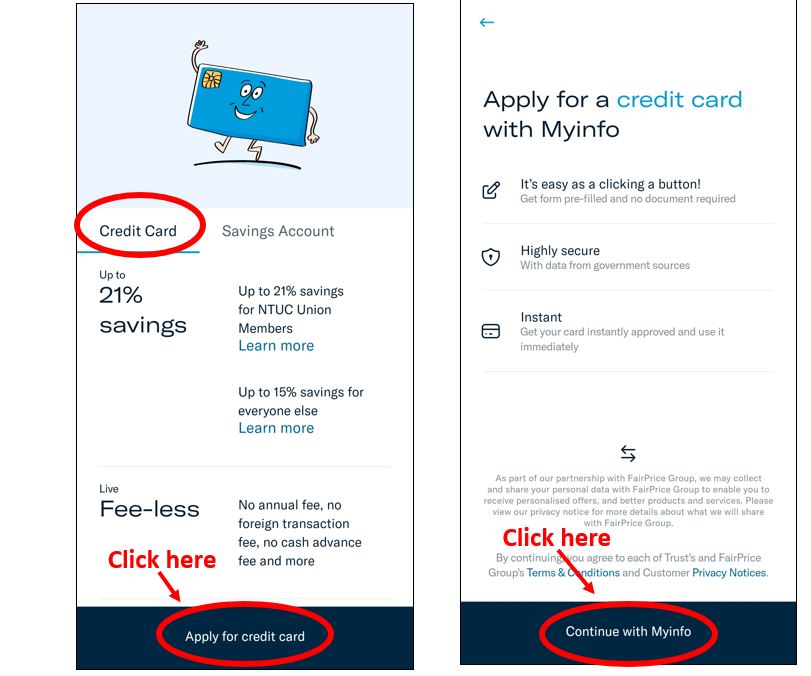 Income requirement for Trust Bank credit card:
Singaporean citizen or PR aged 21 years to 70 years: annual income of SGD 30,000.
Foreigner with a valid work pass: annual income of SGD 60,000.
Based on my own and my friend's experience, salaried employees usually get instant approval, while self-employed people need to wait for the bank's review (which will take up to 3 business days).
I'm a self-employed person and I get approved in 3.5 hours.
Step 4:
After you get approved, you'll be asked to decide your card limit and card repayment date. Once done, your digital card is ready!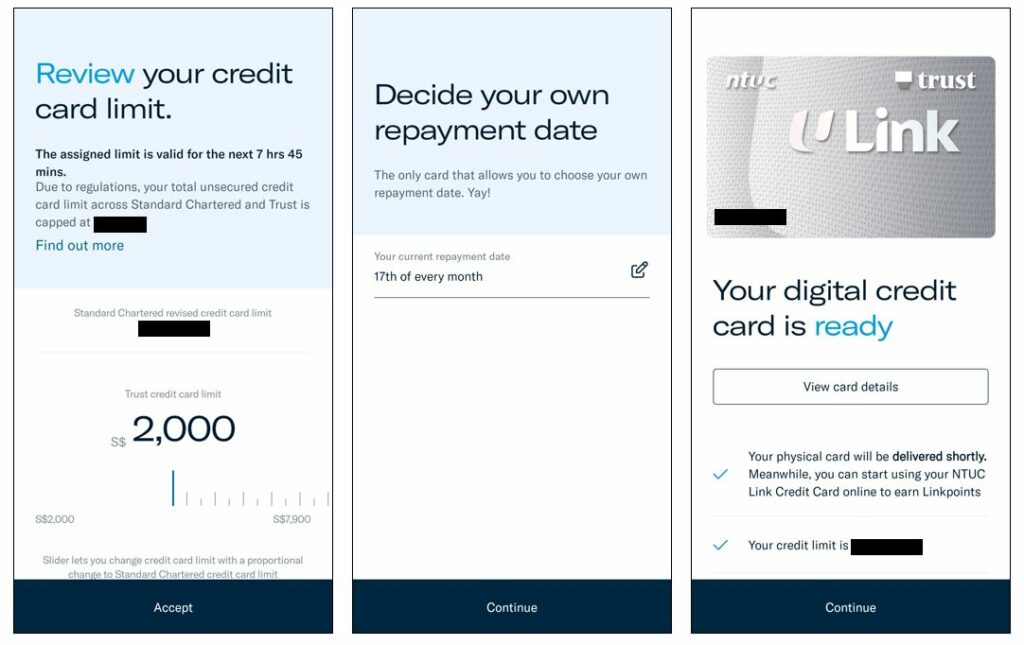 For me, I already have a Standard Chartered credit card, so my credit limit is shared between my SCB card and Trust card.
You can view your rewards at Rewards > Coupons > My Coupons.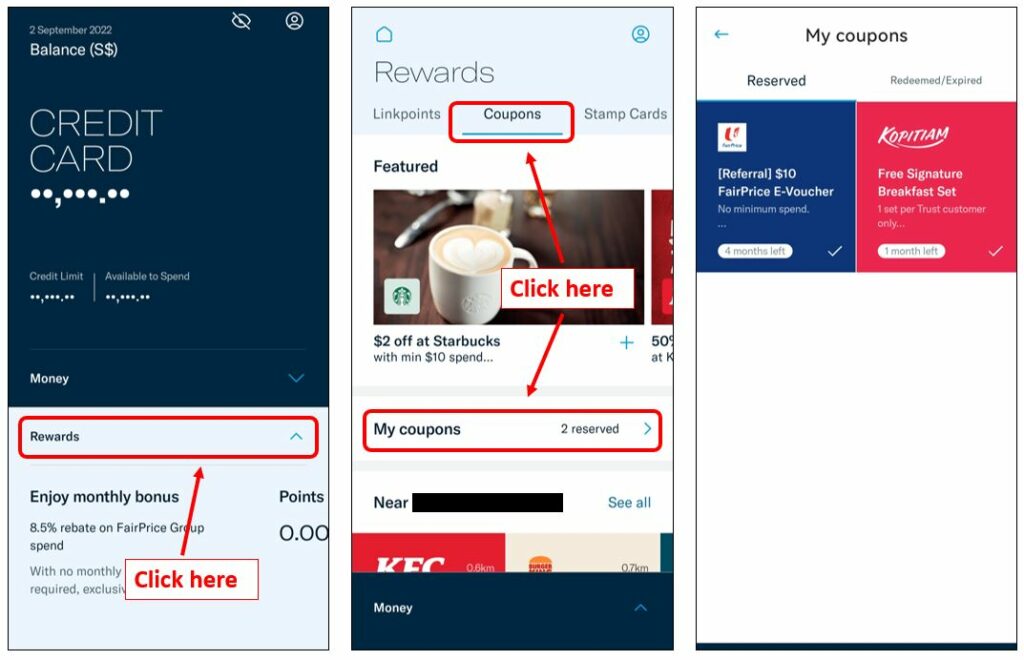 You can view your card details at Money > View and manage card.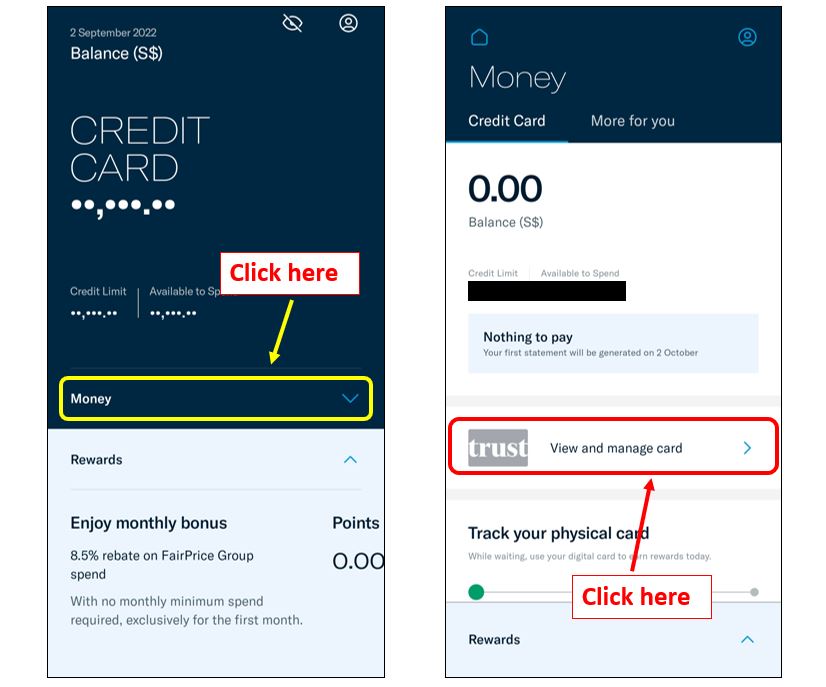 Step 5:
Make 1 transaction with your credit card. After that, you will immediately receive S$25 FairPrice voucher in your Coupon section.
So, that's it! Hope you enjoy your S$35 vouchers!
If you find this post helpful, feel free to buy me a coffee :)