Hi everyone, welcome to my portfolio update series! If you want to see all of my portfolio updates, you can click here.
My Portfolio ending September 2022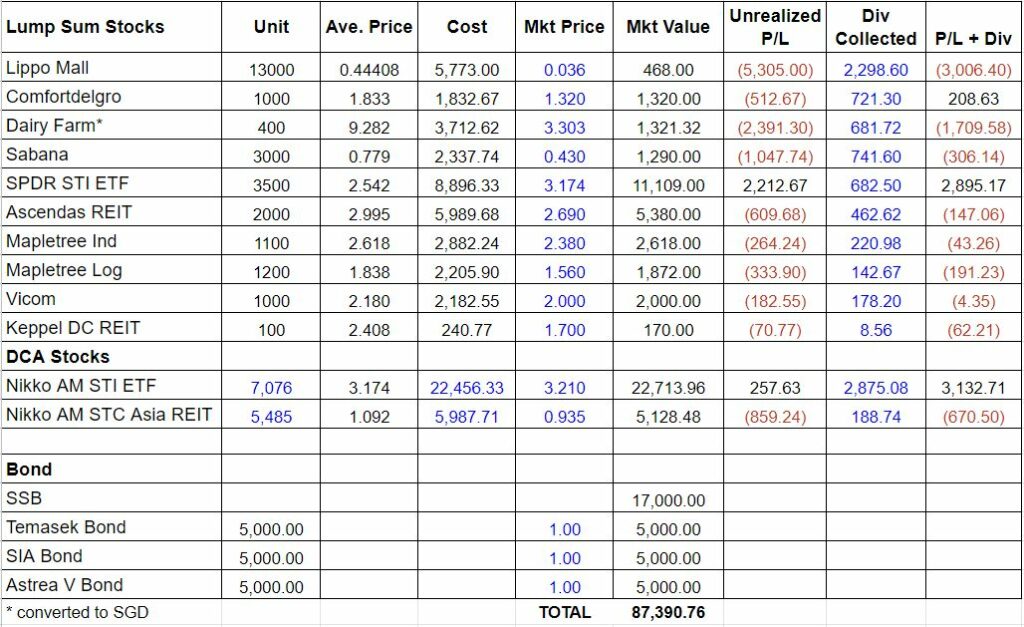 My SG portfolio is down 1k compared to last quarter (June 2022), mainly most stocks are selling off. The funny thing is, STI remains flat when I compare it quarter-to-quarter.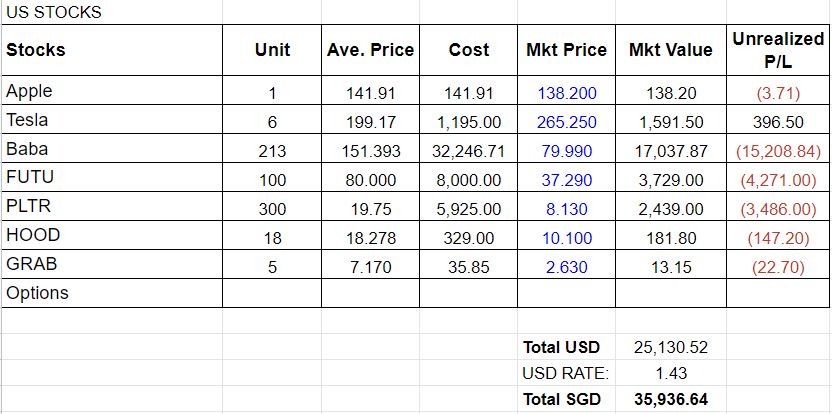 Meanwhile, my US portfolio is down 6.7k because all stocks are going down. I guess we can safely say that the stock market has crashed.
Total portfolio value ending Oct 2022 = S$ 123,327.40
ADVERTISEMENT
Dividends received (from SG portfolio)
Dividends I received in Q3 (Jul – Oct) 2022 are:
SSB: S$242.27
NikkoAM STI ETF: S$389.18
NikkoAM REIT: S$56.34
SPDR STI ETF: S$213.50
LippoMall REIT: S$11.70
Comfortdelgro: S$42.60
Vicom: S$33.20
Sabana REIT: S$47.70
Ascendas REIT: S$157.46
Mapletree Ind REIT: S$38.39
Mapletree Log REIT: S$27.21
Keppel DC REIT: S$5.05
Total dividend received in Q3 (Jul – Oct) 2022 = S$1,264.60
Total dividend received year-to-date = S$2,785.05
Average monthly dividend year-to-date (Jan to Dec 2022) = S$232.09
Average yield year-to-date (Jan to Dec 2022) = 3.12%
ADVERTISEMENT
Transactions performed
For SG Portfolio, I didn't add anything except my usual DCA for Nikko AM STC Asia REIT.
For my US portfolio, I didn't add or sell anything as well.
I've closed all my option positions and I currently don't have the courage to trade options in this choppy environment. Premiums are high during volatile environment, but I just can't do it. I guess I needed a break from the market.
Next move
I'll be DCA-ing NikkoAM STC Asia REIT as usual (which I subscribed through DBS Invest Saver).
I'm not sure if I will add or sell anything. To be honest, my warchest is almost empty now because I've quit my job to work on my passion project, which has been my side hustle for over 5 years. This project (or should I now call a business) has made me enough money to cover my living expenses but not enough extra to let me save and invest yet. What I'm currently doing is just re-investing the dividends I receive into NikkoAM STC Asia REIT each month.
I do have emergency fund which I'm tempted to use for investing during the crash (which is happening now!). But, nobody knows how long the crash will last and if my business suddenly goes down (touch wood!!), I'll have no choice but sell my investment at a loss. This is not worth the risk at all! So, there's a high chance that I won't be adding anything to my portfolio, we'll see..
ADVERTISEMENT
I've been wanting to write about my new venture on this blog. I thought it might be useful for people who are contemplating to go out on their own. However, that venture absorbed so much of my time, I hardly have time to sit down and update this blog. When I do have time, I plan to write a series about my journey becoming a small business owner.
That's all for now. The next Q4 2022 portfolio update will come out in Jan 2023. Til then, invest prudently!
If you find this post helpful, feel free to buy me a coffee :)