Hi everyone, welcome to my portfolio update series! If you want to see all of my portfolio updates, you can click here.
My Portfolio ending June 2022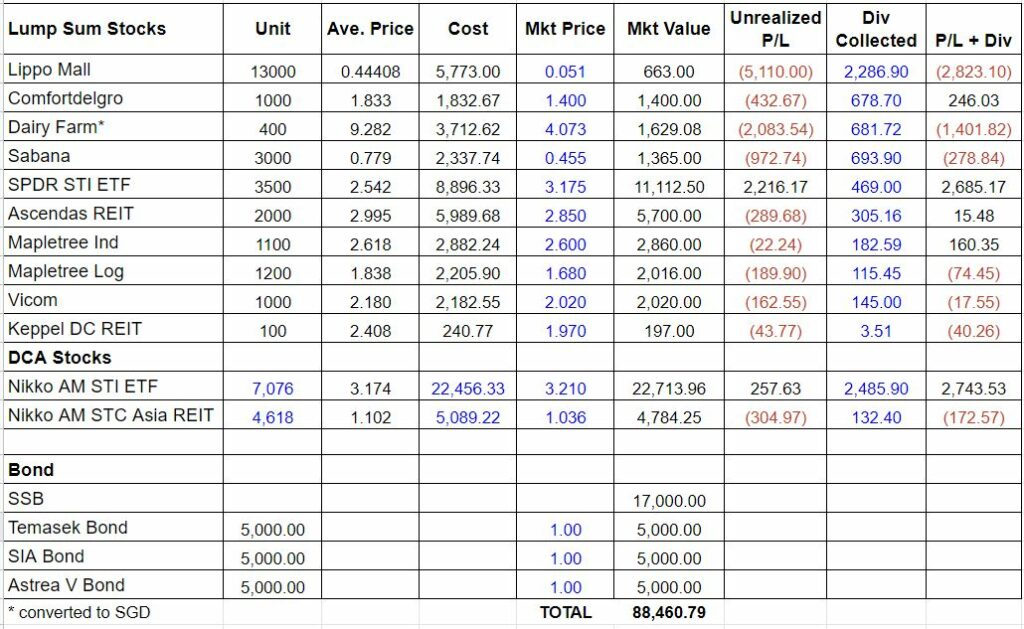 My SG portfolio is down 2.5k compared to last quarter (March 2022), mainly because STI ETF fell from 3.3 range to 3.2 range.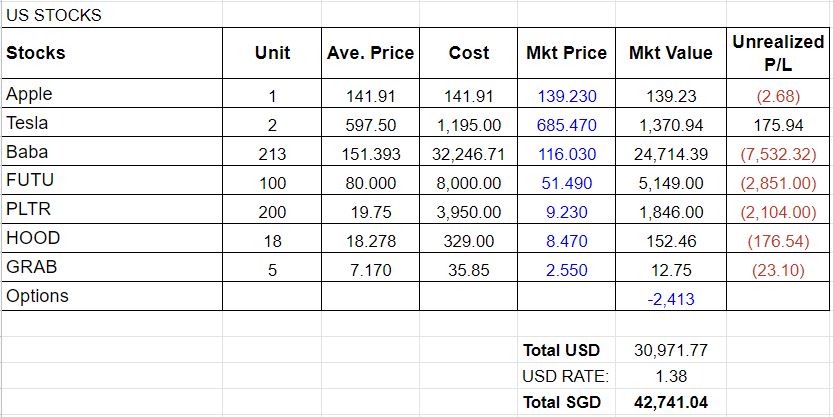 Meanwhile, my US portfolio is up 1k because Chinese stocks is slowly rising.
Total portfolio value ending Jun 2022 = S$ 131,201.83
ADVERTISEMENT
Dividends received
Dividends I received in Q2 (Apr- Jun) 2022 are:
SSB: S$42.70
Temasek Bond: S$67.32
Astrea V Bond: S$95.99
NikkoAM STC Asia REIT: S$47.88
Lippo Mall REIT: S$11.70
ComfortDelgro: S$21.00
Dairy Farm: S$35.84
Vicom: S$52.40
Mapletree Ind: S$38.39
Mapletree Log: S$27.22
Total dividend received in Q2 (Apr – Jun) 2022 = S$440.44
Total dividend received year-to-date = S$1,520.45
Average monthly dividend year-to-date (Jan to Dec 2022) = S$126.70
Average yield year-to-date (Jan to Dec 2022) = 1.69%
ADVERTISEMENT
Transactions performed
For SG Portfolio, I didn't add anything except my usual DCA for Nikko AM STC Asia REIT.
For my US portfolio, I didn't add or sell anything as well.
Next move
Again, I don't see myself making any significant changes in my SG portfolio for the coming months. I'll be DCA-ing NikkoAM STC Asia REIT as usual (which I subscribed through DBS Invest Saver).
For US portfolio, I might want to add more stocks when price fall low enough. As usual, I will keep selling options to collect premium.
That's all for now. The next Q3 2022 portfolio update will come out in Oct 2022. Til then, invest prudently!
If you find this post helpful, feel free to buy me a coffee :)