Hi everyone, welcome to my portfolio update series! If you want to see all of my portfolio updates, you can click here.
My Portfolio ending September 2021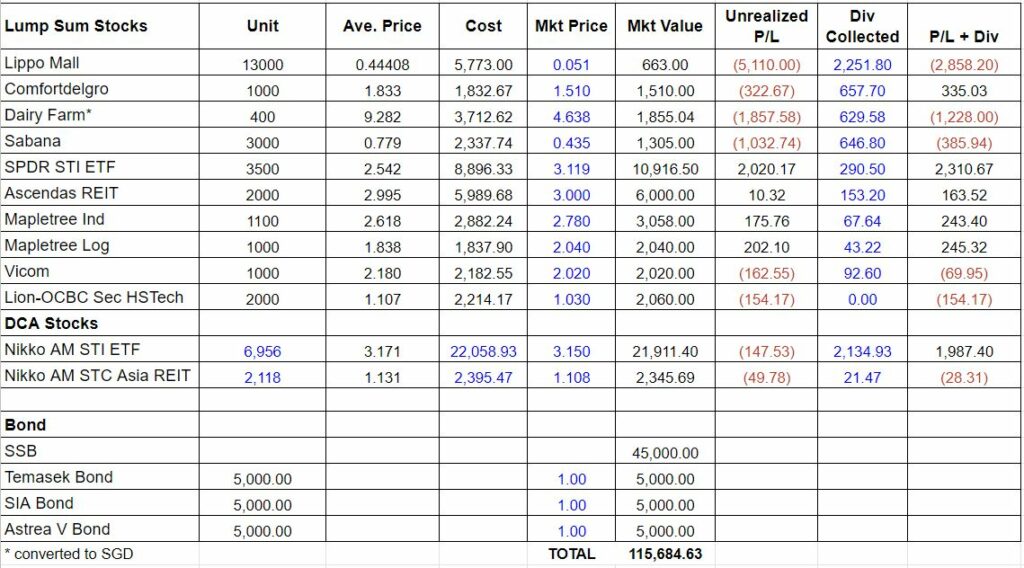 My SG portfolio stays flat compared to last month.

My US portfolio fell $16k compared to last month due to selling of stocks.
Total portfolio value ending Sep 2021 = S$ 118,748.58
ADVERTISEMENT
Dividends received
Dividends I received in Sep 2021 are:
SSB: S$ 25.6
SIA Bond: S$ 76.37
Sabana REIT: S$ 44.4
Comfortdelgro: S$ 21
Ascendas REIT: S$ 40.6
Mapletree Ind: S$ 12.54
Mapletree Log: S$ 21.61
Total dividend received in Sep 2021 = S$ 242.12
Total dividend received year-to-date = S$ 2640.11
Average monthly dividend year-to-date (Jan to Dec 2021) = S$ 220.01
Average yield year-to-date (Jan to Dec 2021) = 2.39%
ADVERTISEMENT
Transactions performed
While I didn't perform any transactions in SG market (except my usual DCA), I performed quite a number of transactions in the US market.
In the beginning of September 2021, JD was on a bull run. Cathie Wood kept buying JD and JD price shot up to $83 around 7 September. At the time, I had 200 shares of JD. I decided to sell 100 shares in tranches (at price around $80), and hold the remaining 100 shares in case JD goes further up. Well, it didn't! It kept dropping until 76 range by 15 Sep. So, I decided to sell off the remaining 100 shares at $76.
I bought 3 BABA stock when it was at $171 to average down, which I regretted later because BABA is now at $147.
I have 1 APPL share, thanks to the 2 people who signed up for moomoo using my referral link. If you signed up with my link and you're reading this, thank you for trusting me.
In options, September is one of my busiest month where I opened 7 new positions and closed 6 positions. I'll write a separate post on my options trading recap. You can read all of my trading recaps here.
In the DCA section, it's my usual monthly Dollar Cost Averaging on NikkoAM STI ETF via OCBC Blue Chip Investment Plan (BCIP) and NikkoAM STC Asia REIT via DBS Invest Saver.
ADVERTISEMENT
Next move
The BABA put option that I sold is likely to expire in the money so most likely I'll have to buy 100 shares of BABA in October.
I've been thinking to DCA into US ETFs but I'm not sure if now is the right time to buy, given the current bearish outlook.
That's all for this month's portfolio update. See you next month!
If you find this post helpful, feel free to buy me a coffee :)