Hi everyone, welcome to my portfolio update series! If you want to see all of my portfolio updates, you can click here.
My Portfolio ending October 2021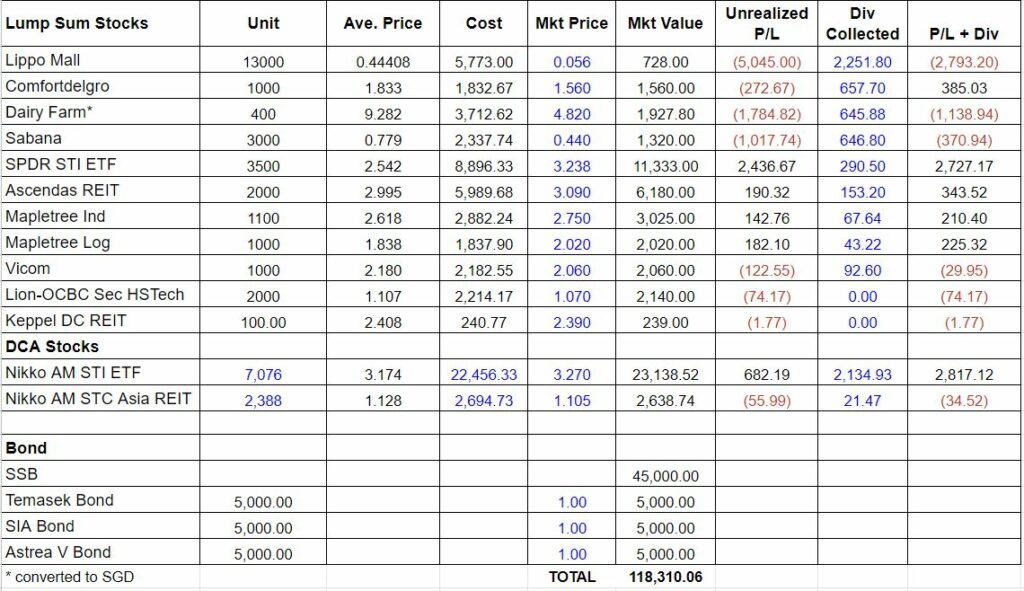 My SG portfolio is up 3k compared to last month, mainly due to STI rising 3.8% M-o-M.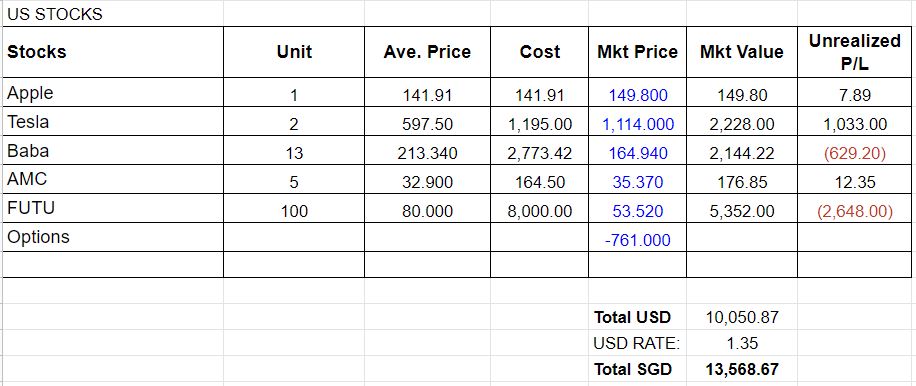 My US portfolio is up $10k compared to last month due to addition of FUTU as well as Tesla's run up (sigh, should've bought more Tesla when it was 600+).
Total portfolio value ending Oct 2021 = S$ 131,878.73
ADVERTISEMENT
Dividends received
Dividends I received in Oct 2021 are:
SSB: S$ 134
Temasek Bond: S$ 67.5
Dairy Farm: S$ 16.3
Total dividend received in Oct 2021 = S$ 217.80
Total dividend received year-to-date = S$ 2857.91
Average monthly dividend year-to-date (Jan to Dec 2021) = S$ 238.16
Average yield year-to-date (Jan to Dec 2021) = 2.56%
ADVERTISEMENT
Transactions performed
For my SG portfolio, I added 100 shares of Keppel DC REIT at S$ 2.38 because I feel that they're trading at an attractive price now.
For my US portfolio, I got assigned with 100 shares of FUTU because the cash-secured put that I sold expired in the money. I had to purchase the stock at my strike price, which was $80. Right now, FUTU is trading at $53 due to the news about Beijing saying that several overseas brokerage don't have license to serve Mainland customers.
I had intended to perform wheel strategy on this 100 shares of FUTU, however, the price has gone down too much, it's impossible for me to do a weekly covered call. Hence, I'll just be hodling the stock for the time being.
In options, October is my busiest month to date. I opened 14 positions, closed 14 positions, and made over $800 premiums, and got 1 assignment (which is FUTU). I'll write a separate post on my options trading recap. You can read all of my trading recaps here.
It's funny how the stock market surprises you when you least expect it. Last month, I wrote that my BABA cash-secured put was deep in the money and I'd likely be assigned. In the week of the expiration, the tide turned and BABA rose above my strike price, so I didn't get to own BABA.
It's a bittersweet situation. On one hand, I'm glad not to get assigned because my cash is still intact. On the other hand, I'm sad not to get assigned because BABA has been rallying and I wish I could enjoy the rally. Oh well.. I guess I'll just have to get used to being in this situation, there'll always be another pot of gold tomorrow, and I should always be grateful when not making loss.
ADVERTISEMENT
Next move
For my monthly DCA, I'll be pausing my NikkoAM STI ETF which I subscribed through OCBC BCIP. I won't sell them, I'll just be holding and collecting dividends. The reason behind this decision is because I'd like to sharpen my stock-picking skills, so I'll be using the fund to buy individual stocks instead of STI.
Meanwhile, my monthly DCA for NikkoAM STC Asia REIT (which I subscribed through DBS Invest Saver) will proceed as usual because I like the quarterly dividend.
That's all for this month's portfolio update. See you next month!
If you find this post helpful, feel free to buy me a coffee :)