Hi everyone, welcome to my portfolio update series! If you want to see all of my portfolio updates, you can click here.
My Portfolio ending November 2021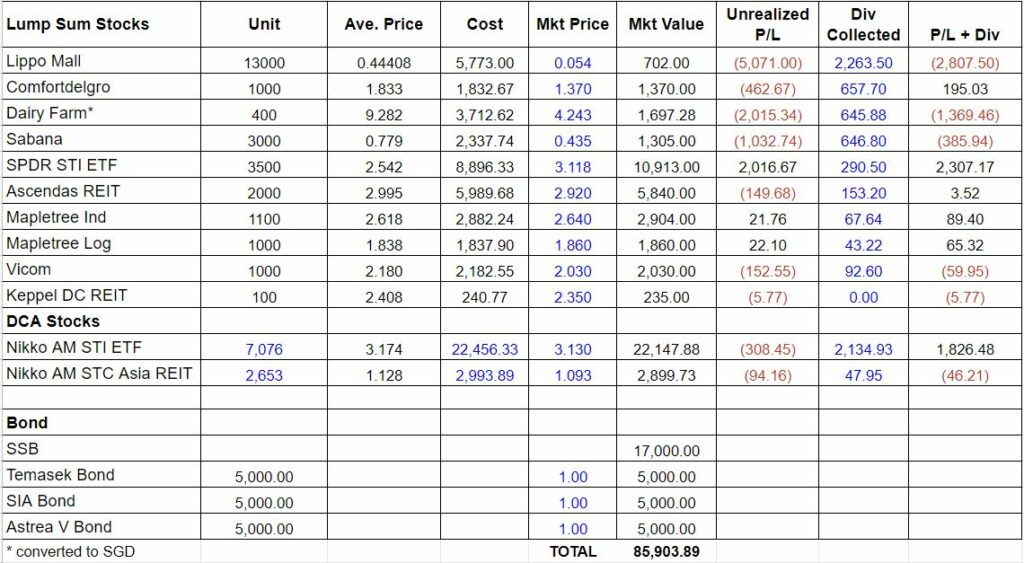 My SG portfolio is down 30k compared to last month, mainly redemption of SSB.

My US portfolio is up $10k compared to last month due to addition of BABA.
Total portfolio value ending Nov 2021 = S$ 112,014.37
ADVERTISEMENT
Dividends received
Dividends I received in Nov 2021 are:
SSB: S$ 135.2
Lippo Mall REIT: S$ 11.7
NikkoAM STC Asia REIT: S$ 26.47
Total dividend received in Nov 2021 = S$ 173.37
Total dividend received year-to-date = S$ 3031.28
Average monthly dividend year-to-date (Jan to Dec 2021) = S$ 252.61
Average yield year-to-date (Jan to Dec 2021) = 2.78%
ADVERTISEMENT
Transactions performed
For my SG portfolio, I sold my Lion-OCBC Sec HSTech (Ticker symbol: HST) because I feel that China stocks is not going to the moon anytime soon, and the money locked in this counter won't generate any dividend, so I decided to rotate the fund to my US portfolio.
I have also trimmed down my SSB holding by 28k because I realized I have too much investment in bond for my age. Furthermore, the average interest rates that I'm getting from SSB is around 2.5% a year. Meanwhile, I can generate at least 2% a month in option. So, I decided to rotate the fund into warchest as collateral for options trading.
For my US portfolio, I got assigned with 100 shares of BABA because the cash-secured put that I sold expired in the money. I had to purchase the stock at my strike price, which was $148. Right now, BABA is trading at $126 due to lower-than-expected earning in Q2 2021.
In options, I opened 11 positions, closed 13 positions, made about $400+ premiums (which is about half of what I earned in Oct), and got 1 assignment (which is BABA). I'll write a separate post on my options trading recap. You can read all of my trading recaps here.
It's funny how the stock market plays with your heart. I wrote in my Oct portfolio that I wished to get assigned with BABA but I didn't and I was a bit sad. Well, in November my wish came true, I got assigned with BABA but I didn't feel happy because stock price kept going down the bottomless pit. Well, I guess life is a rollercoaster, you'll always have ups and downs; you'll just have to get used to it especially if you want to thrive in investing/trading.
ADVERTISEMENT
Next move
Given the uncertainty about the new Omicron variant, the stock market may be falling deeper or soaring higher. For investment portfolio, I'll probably stand on the sidelines and watch how things unfold. For option, I'll be more cautious when entering trades.
For DCA, it's the usual monthly DCA for NikkoAM STC Asia REIT (which I subscribed through DBS Invest Saver). That's all for this month's portfolio update. See you next month!
If you find this post helpful, feel free to buy me a coffee :)