Hey guys, welcome to my portfolio update series! If you want to see all of my portfolio updates, you can click here.
Let's cut to the chase and jump into the numbers.
My Portfolio ending May 2021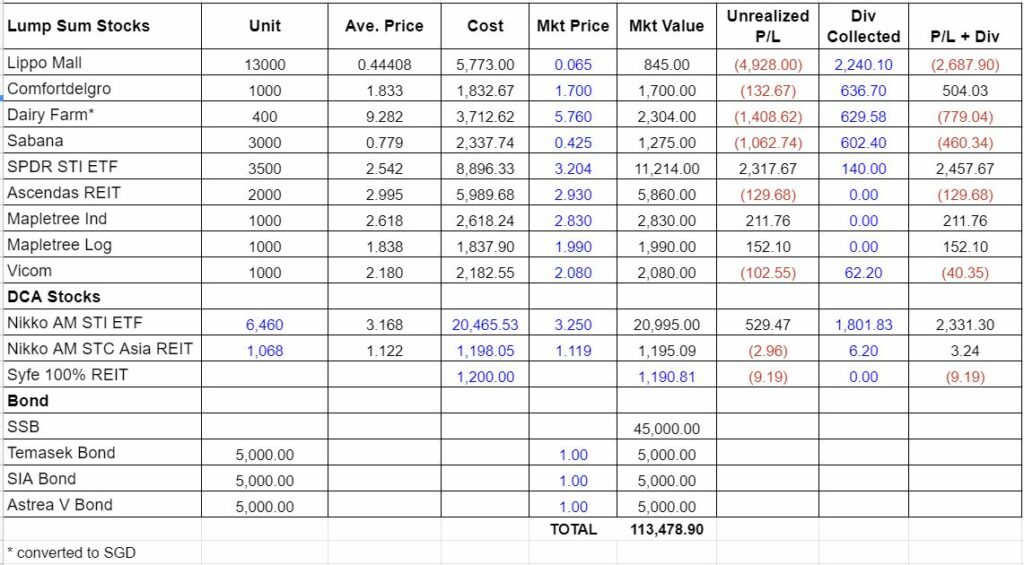 ADVERTISEMENT
Dividends received
Dividend I received in May 2021 are:
SSB: S$ 125.70
NikkoAM STC Asia REIT: S$ 6.20
Lippo Mall REIT: S$ 10 (this is so pathetic, isn't it? 0.17% quarterly yield on cost. I wonder when I can sell it away, sigh.)
Comfortdelgro: S$ 14.30
Dairy Farm: S$ 61.21
Vicom: S$ 62.2
Total dividend received in May 2021 = S$ 280.01
Total dividend received year-to-date = S$ 1351.17
Average monthly dividend year-to-date (Jan to Dec 2021) = S$ 112.60
Average yield year-to-date (Jan to Dec 2021) = 1.27%
Please note that I don't track the dividends received from Syfe portfolio because it's automatically re-invested.
ADVERTISEMENT
Transactions performed
This month, I added Vicom a few days before the Ex-date. It was a last-minute decision because I had several dollars in my Moomoo account and I don't like to see them just sitting idle, so I decided to purchase one of the stocks in my watchlist that's going to have its Ex-date soon. So, Vicom it is.
As a result of, I get to collect $62.2 Vicom dividend this month, yay! But.. the share price dropped after Ex-date (which is expected). Well, I'm planning to hold it long-term, just like my other stocks, so it's ok.
While I did only 1 transaction in SG stock market, I actually started buying US stocks and trading options. But, because this blog post is about Singapore Portfolio Dividend, I'm not going into details about my maiden trades in the US stock market.
ADVERTISEMENT
Next move
Mapletree Industrial Trust will be launching preferential offering next month: 5 new shares @ 2.64 SGD for 100 existing shares. Since the price is less than market price and about the same as my entry price, it's a no-brainer, I'm going to subscribe.
That's all for this month's portfolio update. See you next month!
If you find this post helpful, feel free to buy me a coffee :)