Hey guys, welcome to my second portfolio update! If you want to see my previous updates, you can click here.
I was pretty active and aggressive in March, judging from the number of transactions that I performed in a single month.
Let's jump into the numbers.
My Portfolio ending March 2021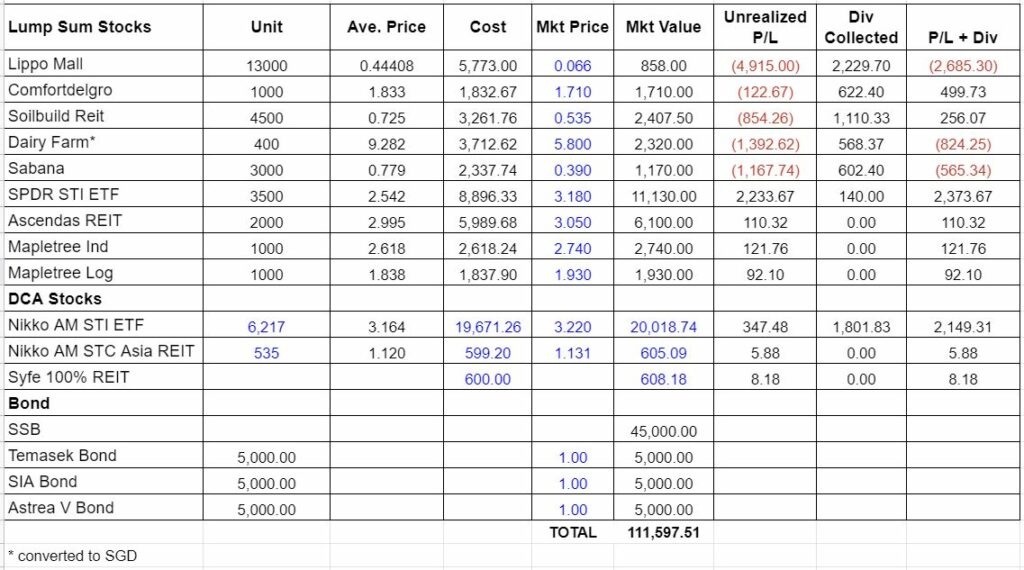 This month, my portfolio reaches 5 figures, because I injected 10k to buy 3 stocks that were trading at a discount (thank you my lucky star for letting me see this rare opportunity to buy giants at a discount!).
I can't help but feel that I'm inching closer to financial freedom! Charlie Munger said that accumulating the first 100k is the hardest, so I'm feeling like a superhero now, woohoo!
Dividends received
Dividend I received in March 2021 are:
SSB: S$22.6
SIA Bond: S$75.13
OUE Com REIT: S$67.99
Lippo Malls REIT: S$5.2
Total dividend received in March 2021 = S$170.92
Total dividend received year-to-date = S$883.94
Average monthly dividend year-to-date (Jan to Dec 2021) = S$84.17
Please note that I don't track the dividends received from Syfe portfolio because it's automatically re-invested.
Transactions performed
In March 2021, I initiated 3 new positions: Ascendas REIT, Mapletree Industrial Trust and Mapletree Logistics Trust. These 3 stocks were going on a downward trend, so I quickly grabbed them while they were low.
I got Ascendas REIT at 2.98, which was not the bottom (the lowest was 2.85) but it's good enough for me. I got Mapletree Ind & Log at 2.59 and 1.81 each (the rock bottoms were 2.52 and 1.78, I was pretty close to the bottom!).
Last month, I said that I'm so horrible in individual stock-picking, but it doesn't mean I'll quit individual stock-picking. Instead, I'll learn how to be a better stock picker. My ability to pick these 3 stocks at near rock bottom price still shocks me until today. I think my stock-picking skill has slightly improved!
Last month, I also said that Soilbuild Biz REIT was trying to get privatized. This month, the privatization is confirmed! YAY! The proceeds will be coming into my account in April, which is next month. Hence, Soilbuild REIT will be leaving my portfolio next month.
This month, I collected dividend from OUE Com REIT even though I sold it last month. The reason was simply because I sold them after the Ex-date, so I'm still entitled for the dividend. Yes, I timed not only my purchase, but also my sale well 🙂
Next move
My warchest is almost empty now, so I doubt I'll be buying anything next month. I'll most likely be sitting tight and simply wait for dividends to come rolling in.
That's all for this month's portfolio update. See you next month!
If you find this post helpful, feel free to buy me a coffee :)