Hi everyone, welcome to my portfolio update series! If you want to see all of my portfolio updates, you can click here.
My Portfolio ending March 2022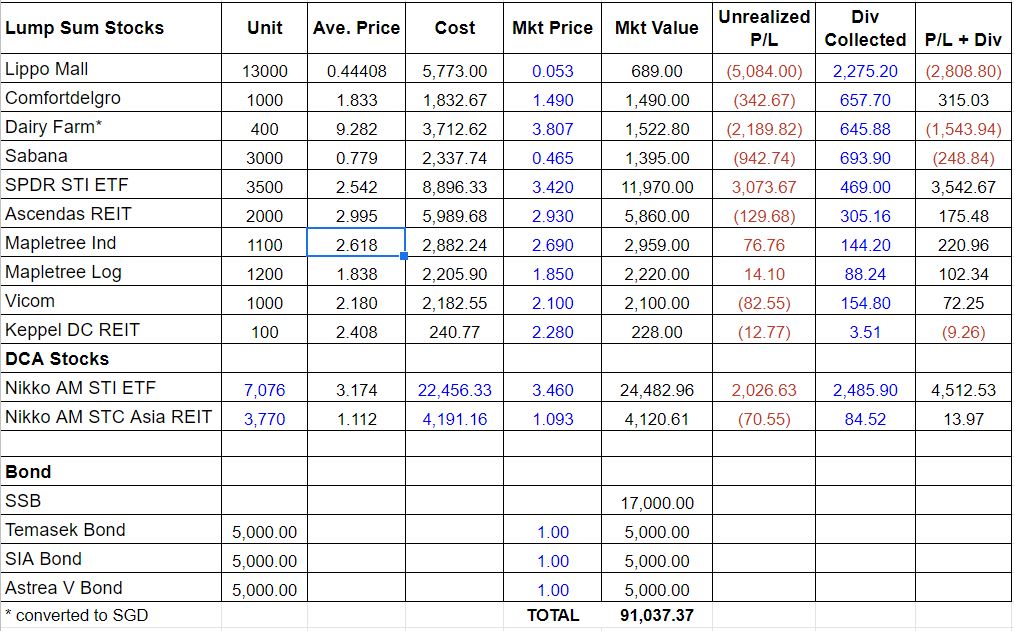 My SG portfolio is up 3.5k compared to last quarter (December 2021), mainly because SG stock market is picking up. STI is now in the 3400 range, a 200 increase from the 3200 range in Dec 2021.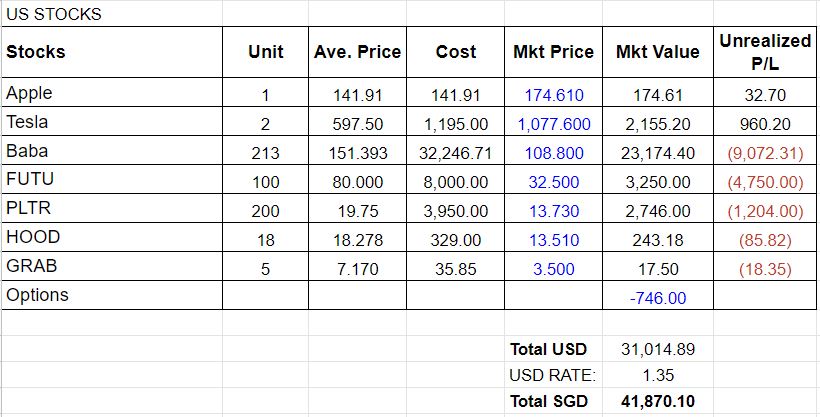 Meanwhile, my US portfolio is down 3.4k because of Chinese stocks further selling off, as well as US tech stocks selling off.
Total portfolio value ending Mar 2022 = S$ 132,907.47
ADVERTISEMENT
Dividends received
Dividends I received in Q1 (Jan – Mar) 2022 are:
SSB: S$162.9
SIA Bond: S$75.13
Nikko AM STI ETF: S$350.97
Nikko AM STC Asia REIT: S$36.57
SPDR STI ETF: S$178.5
Lippo Mall REIT: S$11.7
Sabana REIT: S$47.1
Ascendas REIT: S$151.96
Mapletree Ind: S$38.39
Mapletree Log: S$23.29
Kepple DC REIT: S$3.5
Total dividend received in Q1 (Jan – Mar) 2022 = S$1,080.01
Total dividend received year-to-date = S$1,080.01
Average monthly dividend year-to-date (Jan to Dec 2022) = S$90
Average yield year-to-date (Jan to Dec 2022) = 1.21%
ADVERTISEMENT
Transactions performed
For SG Portfolio, I didn't add anything except my usual DCA for Nikko AM STC Asia REIT.
Meanwhile, for my US portfolio, I added 100 PLTR at $19.5 (due to early assignment) and 8 HOOD at around $17 (because I thought it was a good price to enter; turned out it's not).
Next move
Again, I don't see myself making any significant changes in my SG portfolio for the coming months. I'll be DCA-ing NikkoAM STC Asia REIT as usual (which I subscribed through DBS Invest Saver).
For US portfolio, with the news about Tesla, Amazon and Google stock split, I might want to accumulate more of these stocks until I have 100 shares, so that I can sell covered call, but since my warchest is not unlimited, I need to be selective on which stock to accumulate. As usual, I will keep selling options to collect premium.
That's all for now. The next Q2 2022 portfolio update will come out in July 2022. Til then, invest prudently!
If you find this post helpful, feel free to buy me a coffee :)