Hey guys, welcome to my portfolio update series! If you want to see all of my portfolio updates, you can click here.
This month, I'm doing some changes to my portfolio update. Instead of just reporting my SG portfolio, I'll be including my US portfolio as well.
While my strategy in SG market is dividend investing, my strategy in US market is more on capital growth, so I don't plan to hold my US stocks for years, like what I did to SG stocks.
Let's cut to the chase and jump into the numbers.
My Portfolio ending June 2021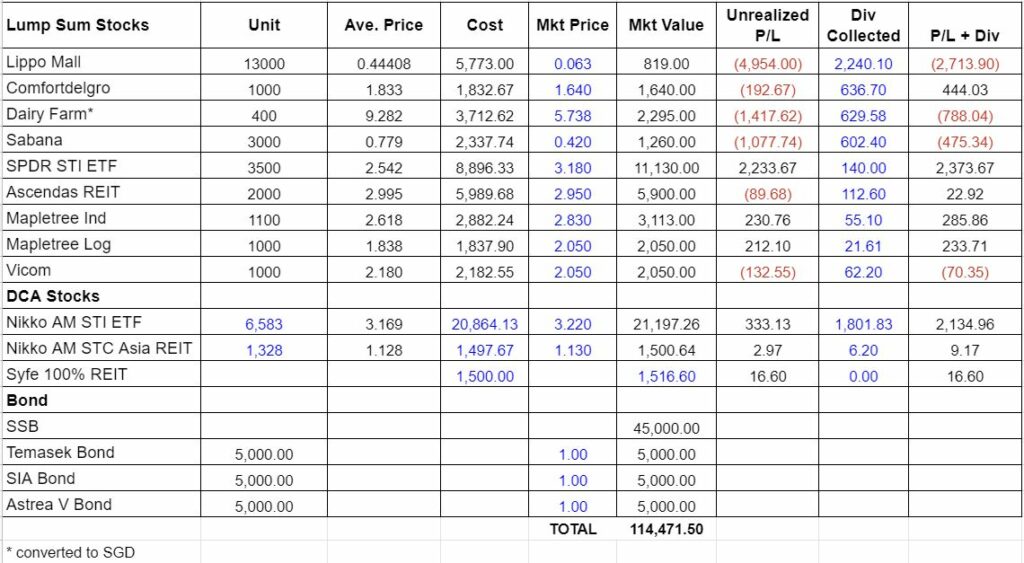 ADVERTISEMENT

Total portfolio value ending June 2021 = 129,445.97.
Dividends received
Dividends I received in Jun 2021 are:
SSB: S$ 88.4
Astrea V: S$ 95.99
Ascendas REIT: S$ 112.6
Mapletree Industrial: S$ 55.1
Mapletree Logistics: S$ 21.61
Total dividend received in June 2021 = S$ 373.7
Total dividend received year-to-date = S$ 1724.87
Average monthly dividend year-to-date (Jan to Dec 2021) = S$ 143.74
Average yield year-to-date (Jan to Dec 2021) = 1.62%
Please note that I don't track the dividends received from Syfe portfolio because it's automatically re-invested.
ADVERTISEMENT
Transactions performed
I mentioned last month that I'd be applying to preferential offering by Mapletree Industrial Trust. As a holder of 1000 shares of MIT, I was entitled to 50 new shares at S$ 2.64/share. I applied to 50 entitled shares + 50 excess shares. On 21 June 2021, I checked my SGX account and saw that I got allocated with 100 new shares, so that means my excess was approved.
I paid for the preferential offering via PayNow and I was surprised that there wasn't any commission charge! In the past (before PayNow era), I used to pay for new shares issuance via rights using ATM and I had to pay $2 application fee. Thanks to technology, I don't have to purposely walk to ATM and pay $2 extra for rights application anymore. Well, hopefully they won't charge commission for PayNow payment in the future!
In addition, it's my usual Dollar Cost Averaging on NikkoAM STI ETF via OCBC Blue Chip Investment Plan (BCIP) Review, NikkoAM STC Asia REIT via DBS Invest Saver, and Syfe REIT.
Besides SG Market, I did quite a lot of transactions on US market. Bought Tesla, Baba and JD. Bought BB (Blackberry) as well and sold for a small gain.
Options is an integral part of my US portfolio. I shorted quite a number of stocks in June 2021, such as Nio, AMC, JD. When looking at my US portfolio, don't be surprised to see a minus value for options.
The market value of my options is negative because I sold options, not buy. If I were to close all of my option position on 30 June 2021, I'd need to buy them back at the price of $516. That's why I recorded my options market value as -516.
ADVERTISEMENT
Next move
For SG market, I doubt I'll be adding any stocks, so it'll just be DCA into indices as usual.
For US market, I'm really concerned about bubble bursting. The market has been extremely bullish, especially in the past 15 months. I'll be monitoring the situation closely and I might dump some stocks that have been performing well to lock my profit. As for options, I'll continue selling options for income.
That's all for this month's portfolio update. See you next month!
If you find this post helpful, feel free to buy me a coffee :)