Hey guys, welcome to my portfolio update series! If you want to see all of my portfolio updates, you can click here.
My Portfolio ending July 2021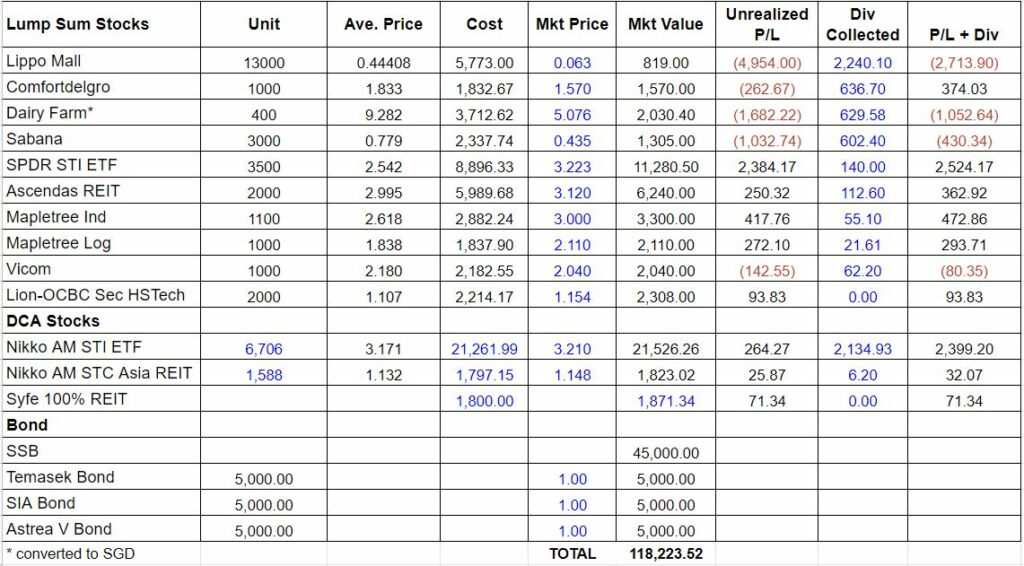 Total portfolio value ending Jul 2021 = S$ 132,149.18
ADVERTISEMENT
Dividends received
Dividends I received in Jul 2021 are:
SSB: S$ 58.75
Nikko AM STI ETF: S$ 333.1
Total dividend received in Jul 2021 = S$ 391.85
Total dividend received year-to-date = S$ 2116.72
Average monthly dividend year-to-date (Jan to Dec 2021) = S$ 176.39
Average yield year-to-date (Jan to Dec 2021) = 1.94%
Please note that I don't track the dividends received from Syfe portfolio because it's automatically re-invested.
ADVERTISEMENT
Transactions performed
China stock market plunged due to the govt crackdown, so, of course I had to grab this rare opportunity. On 27 July, Lion-OCBC Securities Hang Seng TECH ETF (ticker: HST) hit the rock bottom at S$ 1.067 per share. For comparison, the IPO price was HK$7.75 (about S$ 1.33) in December 2020, and the peak was S$ 1.77 on 15 February 2021.
I did not purchase HST at the rock bottom price because it's just impossible to time the market. Instead, I entered in 2 tranches in the same day: 1.135 and 1.075. Including transaction fee, my average price is 1.107. Not too bad in my opinion! Right now HST has bounced up a little to 1.154. Should the price plunge again, I will be prepared to buy more.
Other than HST, I did not have any other lump-sum transactions to report.
In the DCA section, it's my usual monthly Dollar Cost Averaging on NikkoAM STI ETF via OCBC Blue Chip Investment Plan (BCIP) Review, NikkoAM STC Asia REIT via DBS Invest Saver, and Syfe REIT.
In the US section, no new stocks purchase made. In options section, I made $182 profit this month.
ADVERTISEMENT
Next move
I'll be watching closely the prices of China stocks. If it crashes again, I might add more.
Now that Bitcoin is creeping up, I'm really considering if I should join the crypto movement. I am still not a crypto convert yet. I'll do my research and see how it goes.
Other than that, it's DCA and options trading as usual.
That's all for this month's portfolio update. See you next month!
If you find this post helpful, feel free to buy me a coffee :)