Hey guys, welcome to my first ever portfolio update! I've been deliberating whether I want to put my portfolio out for the world to see. On one hand, money is such a personal issue, but on the other hand, accountability is one of the most powerful tools to help one achieves his/her goals.
My goal, as with other aspiring FIRE chasers, is to be financially free. That is, to have monthly passive income that exceeds monthly liabilities. At the moment, my monthly expenses is S$2000 a month. Meanwhile, my current portfolio of almost 100k is only giving me S$200 dividend a month (as of 2020).
It's going to be an uphill battle to reach 2k monthly passive income, but if you don't dream of it, you won't achieve it, right?
As I said in my About page, this blog is my finance diary where I share my goals and aspirations, as well as my struggles. Hence, I decided to take the leap of faith to post my portfolio update on this blog.
Please note that I'm not an expert in finance. I'm not writing this post for bragging. Majority of the stocks that I'm holding are in red, so there's nothing for me to brag anyway.
I'm horrible at picking individual stocks, so my investment is largely bonds and ETFs. By dedicating a special series of "Dividend Portfolio" in this blog, I hope it can force me to be accountable for my aspiration to reach my goal of 2k monthly dividend income.
Without further ado, here's my portfolio in February 2021. Please promise me one thing: don't laugh at my horrible paper loss.
My Portfolio ending February 2021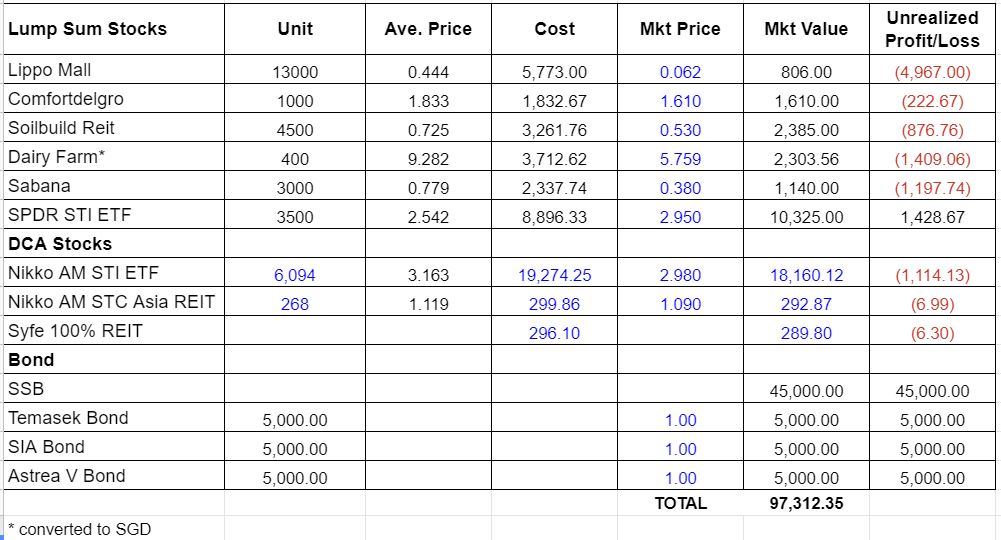 Dividends received
Dividend I received in February 2021 are:
SSB: S$70.6
SPDR STI ETF: S$140
Soilbuild Biz REIT: S$53.74
Sabana REIT: S$68.7
Total dividend received in February 2021 = 333.04
Total dividend received year-to-date = S$ 713.02
Average monthly dividend year-to-date = S$59.4
Please note that I don't track the dividends received from Syfe portfolio because it's automatically re-invested.
Transactions performed
In February 2021, I sold my OUE Com REIT. Ignoring dividend received, that transaction was at 30% loss. But because I've been holding OUE Com REIT since IPO in 2014, I've been collecting quite a sizeable amount of dividend. Including dividend, that transaction was at 15% profit.
The reason I sold OUE Com REIT was because I've lost confidence in the Riady family. All of Riady-related shares are performing really badly, including Lippo Mall REIT, First REIT, Lippo Karawaci. Since there's still salvage value in OUE Com REIT, I decided to quickly exit.
Next move
Soilbuild Biz REIT is trying to get privatized by offering unitholders a buyback price of S$0.538 per unit. If it gets through in March 2021, then I'll be cashing out all of my Soilbuild Biz REIT.
Using the proceeds from OUE Com REIT and Soilbuild Biz REIT, I'll be able to invest in other dividend stocks that have been on my watchlist. This time, I only want to pick blue-chip or strong companies. I'm done chasing yield, it's time to choose stability and settle down.
That's all for this month's portfolio update. See you next month!
If you find this post helpful, feel free to buy me a coffee :)