Hi everyone, welcome to my portfolio update series! If you want to see all of my portfolio updates, you can click here.
My Portfolio ending December 2021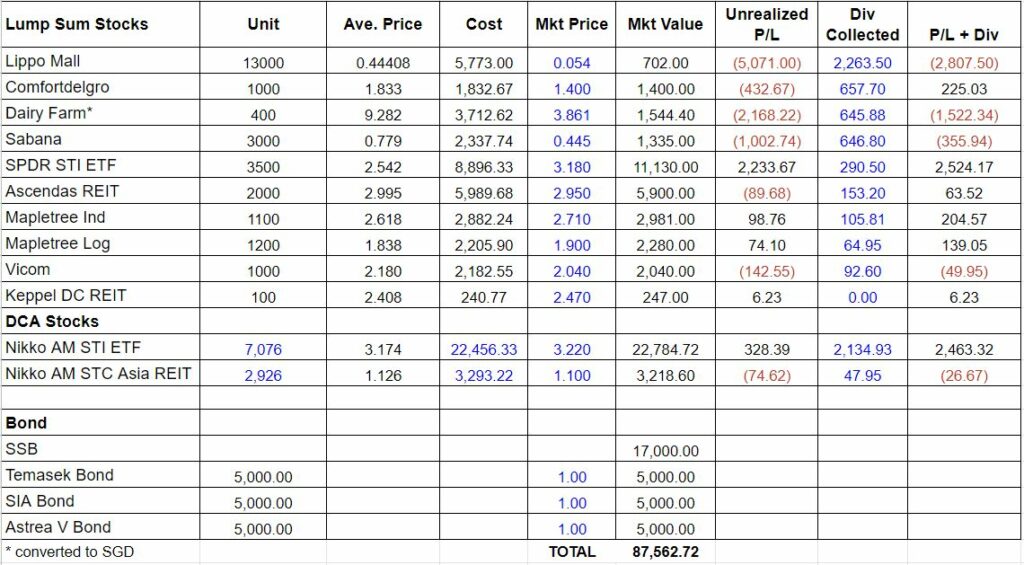 My SG portfolio is up 1.5k compared to last month, mainly because stocks are picking up.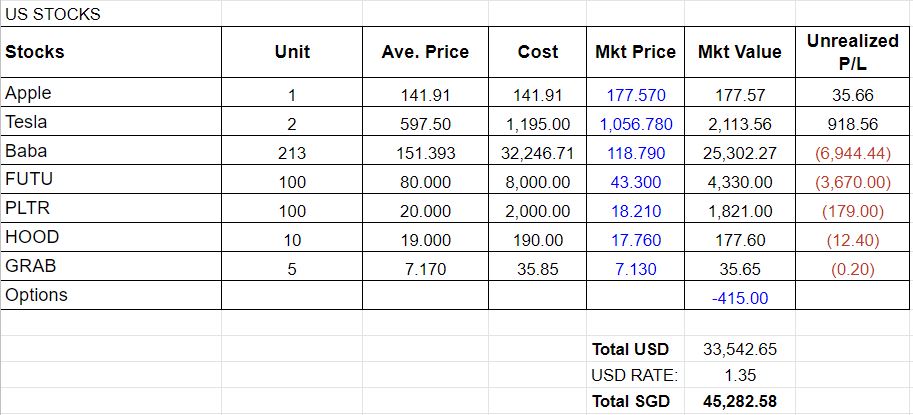 My US portfolio is up $19k compared to last month due to addition of BABA, PLTR, HOOD, GRAB and my options liability going down.
Total portfolio value ending Dec 2021 = S$ 132,845.30
ADVERTISEMENT
Dividends received
Dividends I received in Dec 2021 are:
SSB: S$ 88.4
Astrea V Bond: S$ 96.51
Mapletree Industrial: S$ 38.17
Mapletree Logistics: S$ 21.73
Total dividend received in Dec 2021 = S$ 244.81
Total dividend received year-to-date = S$ 3,276.09
Average monthly dividend year-to-date (Jan to Dec 2021) = S$ 273.01
Average yield year-to-date (Jan to Dec 2021) = 3.05%
ADVERTISEMENT
Transactions performed
For my SG portfolio, I applied for 200 shares of Mapletree Logistics at $1.84 during preferential offering  in December, even though I was originally entitled to 37 only. I'm glad that I got the excess.
For my US portfolio, I got early assignment with 100 shares of BABA at $148, and I took assignment of 100 shares of PLTR @ $20.
In addition, I added 10 shares of HOOD @ 19 because I want to buy the dip and I got 5 shares of GRAB from referral reward.
In options, I opened 17 positions, closed 16 positions, made about $130+ premiums (which is the less than half of what I earned in Nov 21), and got 2 assignments (BABA and PLTR). I'll write a separate post on my options trading recap. You can read all of my trading recaps here.
ADVERTISEMENT
Next move
I don't see myself making any significant changes in my SG portfolio for the coming months. I'll be DCA-ing NikkoAM STC Asia REIT as usual (which I subscribed through DBS Invest Saver).
For US portfolio, I'll be doing options as usual, while waiting for price to rebound (which may take a while).
From 2022 onwards, I will be reducing the frequency of this portfolio update. Instead of monthly updates, I'll be doing quarterly updates instead, because tbh nothing much changes every month.
Q1 2022 portfolio update will come out in April 2022. Til then, invest prudently!
If you find this post helpful, feel free to buy me a coffee :)