Hi everyone, welcome to my portfolio update series! If you want to see all of my portfolio updates, you can click here.
My Portfolio ending August 2021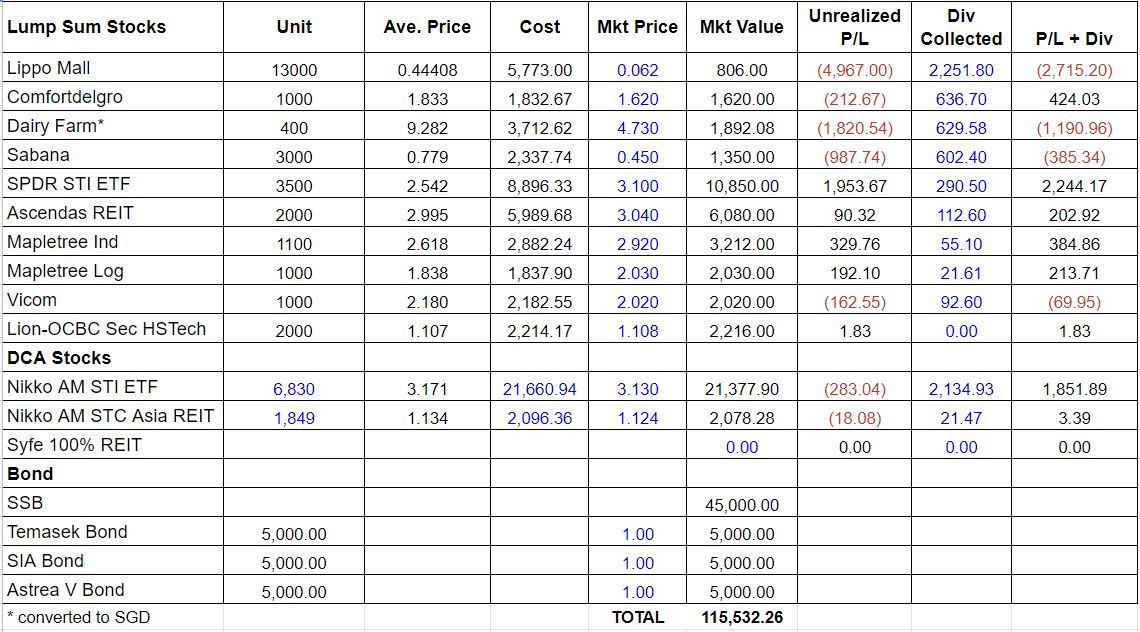 My SG portfolio fell $2.7k compared to last month due to price drop in almost every stocks.
My US portfolio went up $11k compared to last month due to fund injection as well as the sharp rise of JD.
Total portfolio value ending Aug 2021 = S$ 140,815.36
ADVERTISEMENT
Dividends received
Dividends I received in Aug 2021 are:
SSB: S$ 73.4
NikkoAM STC Asia REIT: S$ 15.27
SPDR STI ETF: S$ 150.5
Lippo Mall REIT: S$ 11.7
Vicom: S$ 30.4
Total dividend received in Aug 2021 = S$ 281.27
Total dividend received year-to-date = S$ 2,397.99
Average monthly dividend year-to-date (Jan to Dec 2021) = S$ 199.83
Average yield year-to-date (Jan to Dec 2021) = 2.19%
ADVERTISEMENT
Transactions performed
This month, I closed my Syfe Reit+ portfolio simply because I want to trim and consolidate the number of stocks/funds that I'm holding.
In US stock market, one of the put option that I sold expired in the money, so I had to purchase 100 shares of JD at strike price of $65. Previously I had already owned 100 shares of JD which I purchased at $71.7, so the new shares are averaging down my cost to $68.35.
Besides JD, I also bought 5 shares of AMC, yes the meme stock AMC. It's a pretty small amount (5*$32 = $164.5) so even if AMC goes down to 0, I won't lose any sleep. But, if it goes to the moon 🚀, I hope I'll be able to dine at a Michelin star restaurant 🍽️.
For options, I'll write a separate post on my options trading recap. You can read all of my trading recaps here.
In the DCA section, it's my usual monthly Dollar Cost Averaging on NikkoAM STI ETF via OCBC Blue Chip Investment Plan (BCIP) and NikkoAM STC Asia REIT via DBS Invest Saver.
ADVERTISEMENT
Next move
I'll be watching the news closely regarding China's govt crackdown. I might add or sell my China stocks, depending on the price and market sentiments.
Other than that, it's DCA and options trading as usual.
That's all for this month's portfolio update. See you next month!
If you find this post helpful, feel free to buy me a coffee :)