Hey guys, welcome to my portfolio update series! If you want to see all of my portfolio updates, you can click here.
April 2021 was a quiet month for me in terms of transactions. I had no transactions at all this month, other than my usual Dollar Cost Averaging.
Let's jump into the numbers.
My Portfolio ending April 2021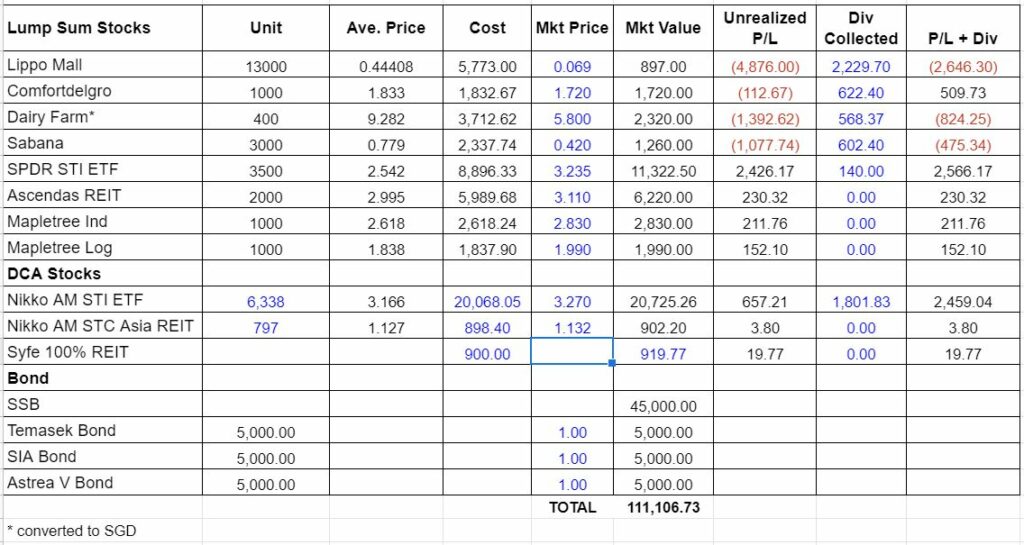 This month, Soilbuild Business Space REIT was officially delisted at S$ 0.538/unit. My average cost for this counter was S$ 0.725. Without dividend, I would be sitting at 25% loss. I've been holding this counter for 6 years and have collected S$ 1110.33 dividend so far. Taking dividend into consideration, I'm sitting at 11.4% profit. It's not impressive, but I'm just grateful that dividend helped to cushion the capital loss.
The local stock market is on an upward trend once more, so even though Soilbuild REIT left my portfolio this month, this month's portfolio value is about the same as last month's portfolio value.
Dividends received
Dividend I received in April 2021 are:
SSB: S$ 119.90
Temasek Bond: S$ 67.32
Total dividend received in April 2021 = S$ 187.22
Total dividend received year-to-date = S$ 1071.16
Average monthly dividend year-to-date (Jan to Dec 2021) = S$ 89.26
Please note that I don't track the dividends received from Syfe portfolio because it's automatically re-invested.
Transactions performed
No transactions performed this month.
Next move
I'll keep an eye on the stocks on my watchlist as well as my warchest. If there's opportunity, I'll jump in. If not, I'll just sit tight again.
That's all for this month's portfolio update. See you next month!
If you find this post helpful, feel free to buy me a coffee :)